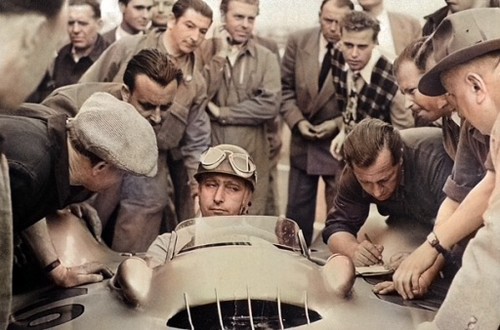 The picture above is Juan Manuel Fangio, and Argentinian racing car driver, surrounded by journalists and mechanics after breaking record in France, 1954. Many people consider him as the greatest racing car driver in history. His nickname was El Maestro.
He focused on racing since he was a child, he even abandoned schools. He made his racing debut in Argentine in 1934 when he was 23 years old. Following his successful career in Argentine, government funded him to pursue his career in Europe in 1948.
His success continued in Europe despite his old age. He even won Formula One World Driver Championship five times, the record lasted for 47 years. Schumi broke it in 2003. Fangio won his title with four different teams. His achievement is unparalleled until now.
In 1958 he was kidnapped in Cuba a day before Grand Prix Cuba by Fidel Castro's people. He was released hours after Grand Prix finished. Castro did it as political attack to President Batista.
In 2016 Google made Fangio the person of Google doodle to celebrate his 105th birthday.
The photo above is colorized version, below is the original photo in black and white.