Formula 1 about to start soon again
It is time! Also time for a new post after 12 days of no activity here. Racing is finally coming back - the season is not far away. In Barcelona some testing is going on. Nico Hülkenberg surprisingly dominates the last tests in Barcelona. Meanwhile comebacker Robert Kubica causes trouble and almost has a crash.
World champion Lewis Hamilton went on a time chase for the first time on Thursday after Mercedes had focused on the stability of the car in the days before.
In 1:17.977 minutes the Briton was one tenth faster than Leclerc (1:18.046/C3) on a soft tyre compound (C4) and finished fifth in the stage classification.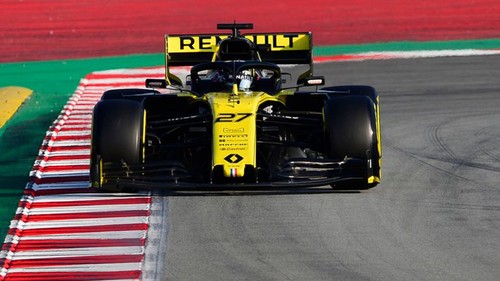 Renault driver Nico Hülkenberg spun the fastest time of Thursday and thus of the first test week. The driver from Emmerich completed the track in 1:17.393 minutes and thus displaced the long leading Thai Alexander Albon (Toro Rosso) from the top.
The fastest four drivers were all on the softest C5 tyre compound. Shortly after its best time, Hülkenberg rolled out with a technical problem and caused a short interruption of the test operation.
Kubica causes trouble
Few friends made themselves returnee Robert Kubica in Williams. The Pole, who made his comeback in Formula 1 nine years after his serious rally accident, often stood in the way and almost provoked a crash with Hamilton. Kubica's time of 1:21.542 was not particularly meaningful, Williams limited himself to aerodynamic measurements after the late start to the test week. Leclerc took a small ride, chased the Ferrari through the gravel and immediately returned to the pits.
The 21-year-old Leclerc reviewed the first of two test weeks in an amazingly cool way. "Sebastian and I drove many laps without any problems, so we can all be very satisfied," said Leclerc, but immediately restricted: "Nobody put their cards on the table here, not even we, so the times are not particularly meaningful.