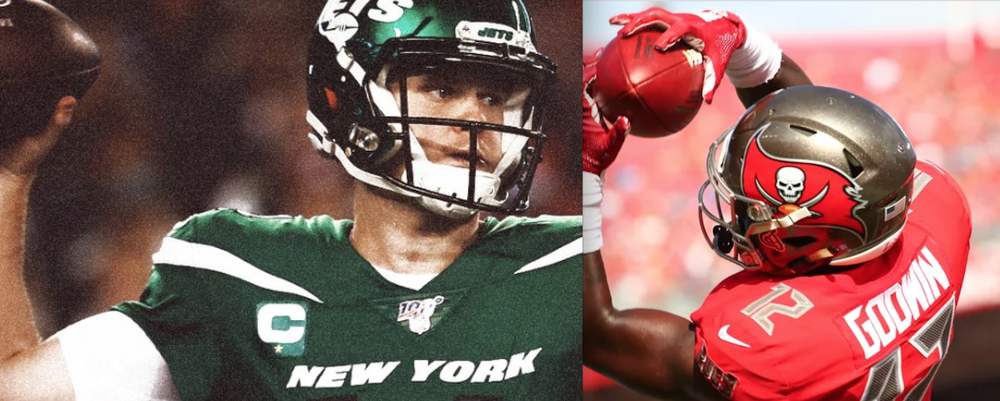 Team Thompson (1st Place in Yahoo Rookie League)
Shout out to akudozen who seemed to have seen this coming. Team Thompson is by far my most superior team so far after Week 12.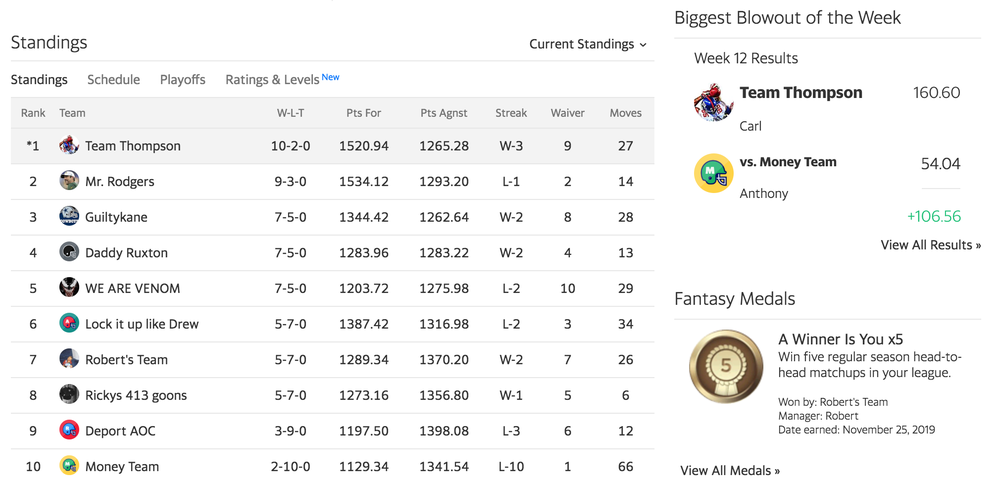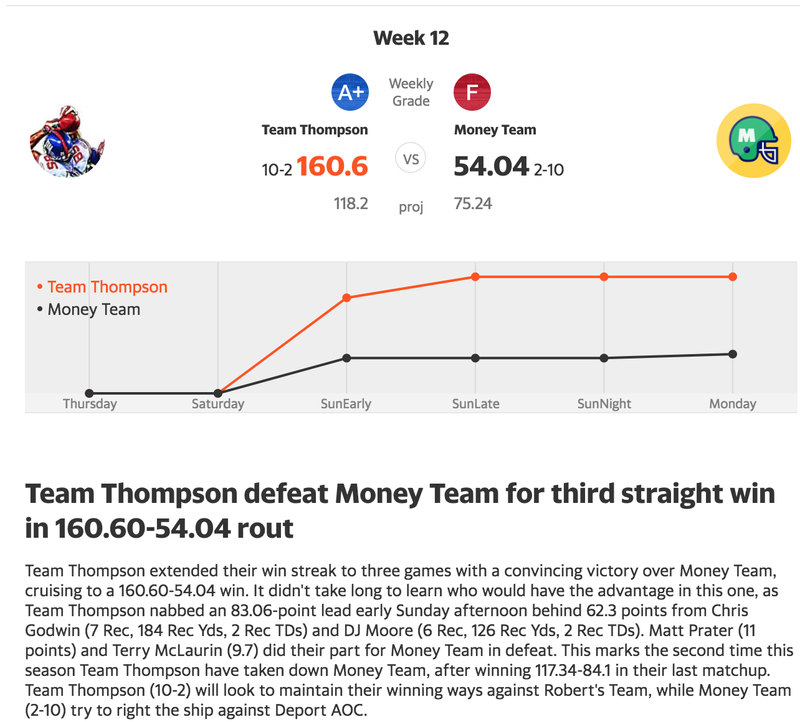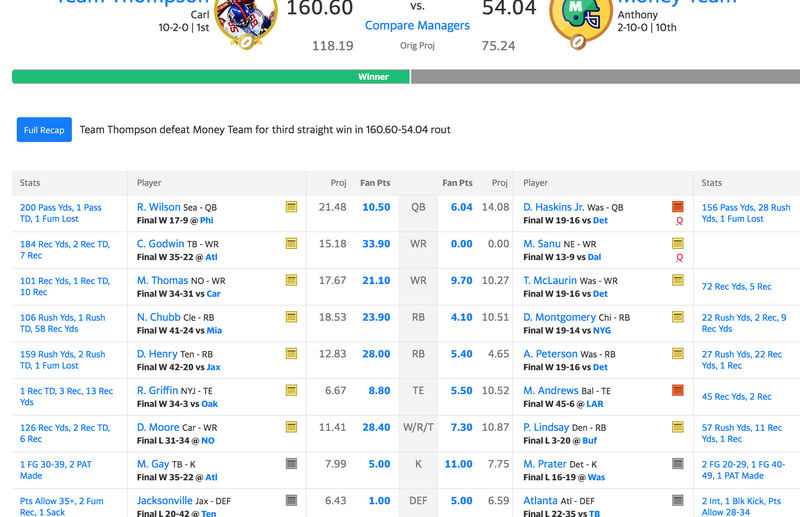 Thompson Trilogy (2nd Place in Apex Amateur League)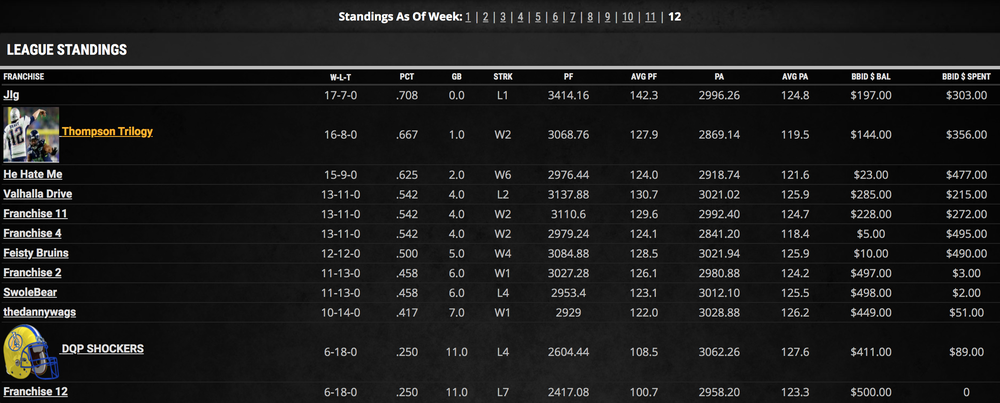 Thompson Trilogy is still battling for supremacy at the top of our Amateur Apex Fantasy League and we are only one game out from 1st place. With this league requiring much more attention and dedication from me you can believe I'm giving it my all each week on the waiver wire. *Note: This past week Thompson Trilogy boasted 8 out of 11 new players from the waiver wire. Patrick Mahomes was on a bye week, Tom Brady has been playing poorly, and so I started Sam Darnold at quarterback who's been on fire as well as other great waiver wire picks that I sniffed out just in time for a big game against Valhalla Drive, who I've now beaten twice this season to defend my spot on the leaderboard.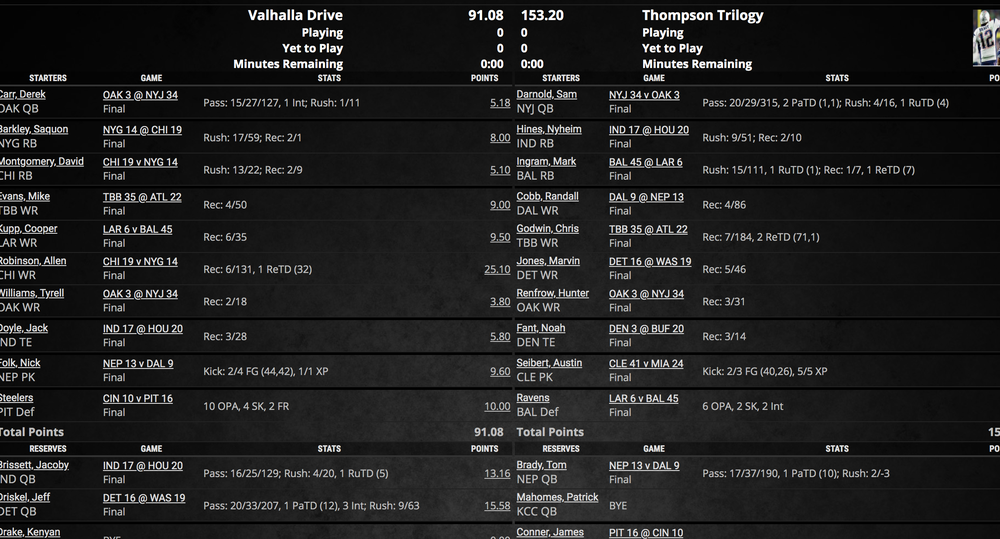 James Conner has stuck me 1, 2 many times with his nagging injuries but luckily I've had Mark Ingram bail me out with stacked performances down the stretch. Overall, Thompson Trilogy have remained strong and while backed by my improved waiver wire skills, we have our eyes set on knocking Jig back down from the top spot in which he claimed after beating Thompson Trilogy decisively in Week 5.
Carl's Team (5th Place in #2 Yahoo Rookie League)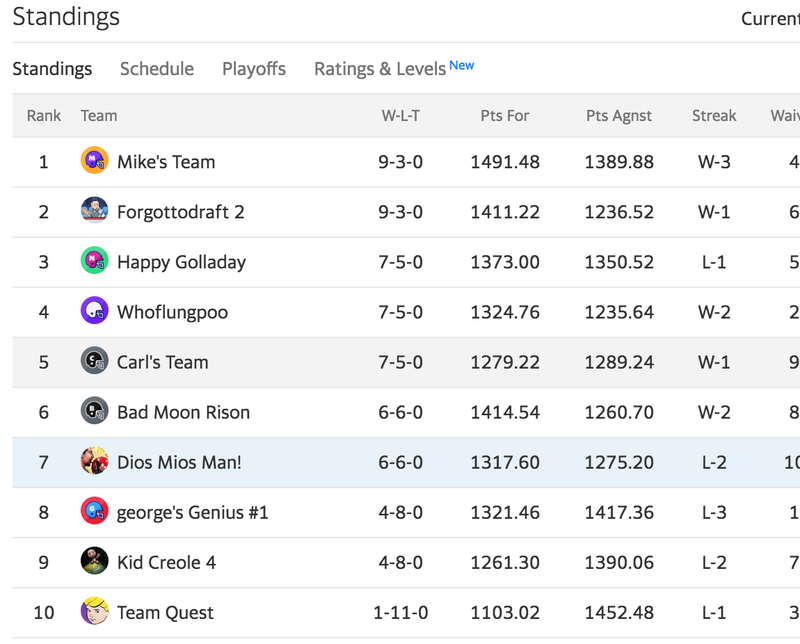 Carl's Team, my 2nd Rookie league team, is doing ok as we've managed to snap a 3 game losing streak and remain just 2 wins away from the 1st place
Tom Brady let me down in Week 11 and Drew Brees came up just short for me in Week 10 after the surprise beating and loss he suffered from the Falcons defense, who sacked him 6 times. Carl's team, being the least promising team of the 3 still has a strong chance of finishing on top just like my other 2 teams.