Most Fantasy Picks are based on guesses and some valuable football knowledge. While those are credible, we will use data to see what best picks to watch out for this coming Gameweek.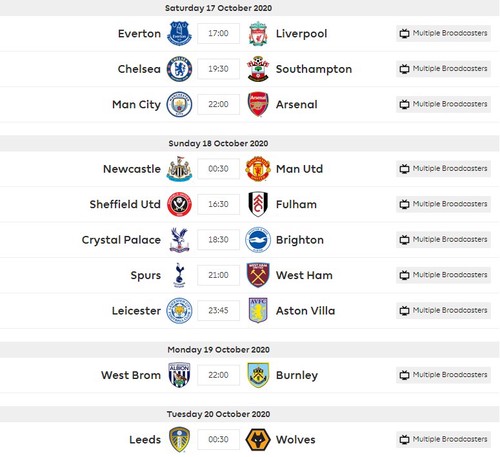 Right off the bat, if we're just considering fixtures alone and not the data - We can see that it would be a good pick to choose players from either Chelsea, Spurs or Leicester. Even Leicester seems a risky one given the form Aston Villa seem to be in at the moment. Have we forgetten their 7-2 thrashing of Liverpool already?? Never.
Not a bad strategy but does the data agree? Let's take a look at who maybe the key players to choose.
---
Strong in the Air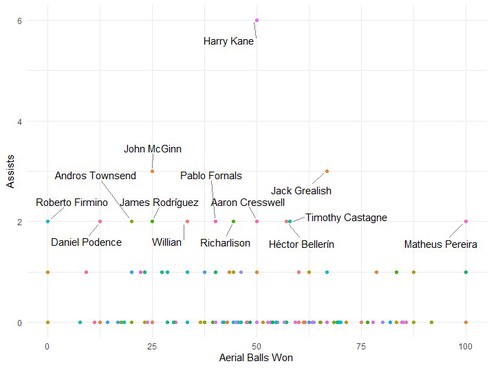 Take a look at this spread. Here we have the players who have been the most deadly in the air over the past 5 Gameweeks. Some of the names in there might surprise you such as Hector Bellerin and so on. Notice an outlier at the very top - Yep, Harry Kane has excelled far above everyone else and how can he not after the way Spurs played against Manchester United.
Our Pick:
John McGinn - a value price of £5.5, a solid choice with 22 pts already. Facing Leicester who lost their last game to West Ham.
Deadly Passers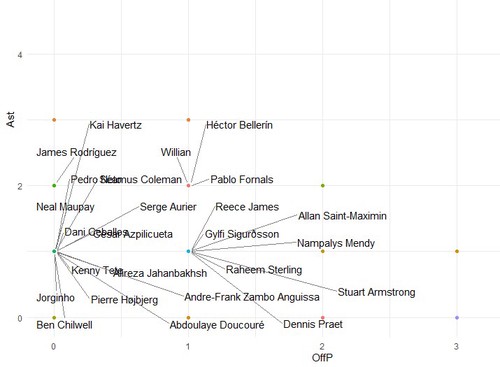 Now we take a look at the players who attempt the most risky passes during a game. If we consider just the Offside passes, this would not be a valuable stat. But, if we combine it with the Assists a player has contributed, we have a more interesting scenario.
Our Pick:
1. Ben Chillwell - Score is low on the chart (having played only one game 1 Goal 1 Assist). £5.6. 18 pts. Facing Southampton (2 Wins 2 Losses).
2. Allan Saint-Maximin - £5.3. 16 pts. Facing Manchester United.
Which Penalty Taker?
Finally, an interesting question to consider is Penalties. We all know who the designed penalty takers are by now for each team. But do we know which one to pick? Let's see what the data shows.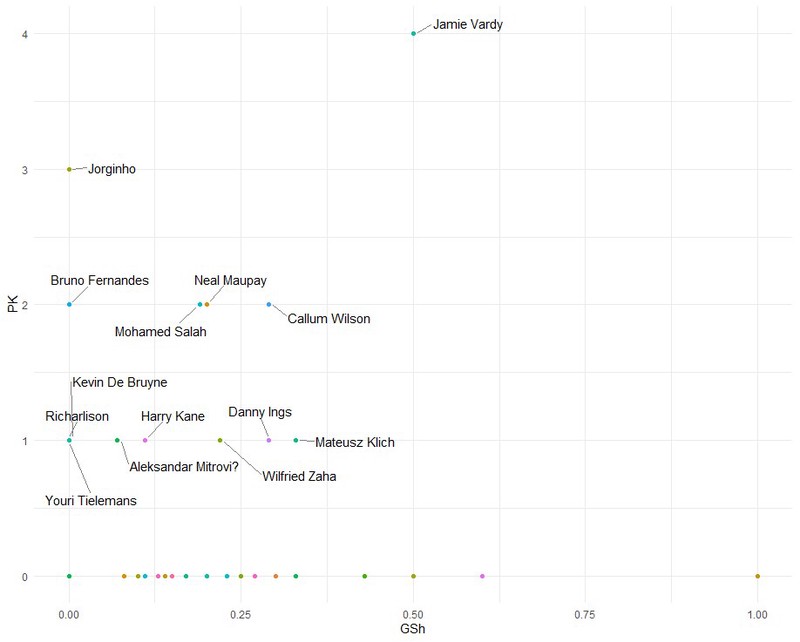 If we consider the Penalty takers who also might bring in value for you as a routine goal-scorer, we get the above spread. The further right we go, the more a player contributes via goals not from penalties. Ofcourse the further higher we go, this value will decrease. So who would be good picks for this Gameweek?
Our Pick:
1. Mateusz Klich - £5.6. 23 pts. Drew against Manchester City in the previous Gameweek.
2. Callum Wilson - £6.5. 34 pts. 2 Penalties so far. Best value-for-money if you consider Penalty and Non-Penalty goals.
Thanks for reading! There are so many scenarios to consider and these are just a few quick tips.
Let me know if you would like to see more Gameweek picks or other analysis just from what the data may tell us.
Follow me here or on Twitter.