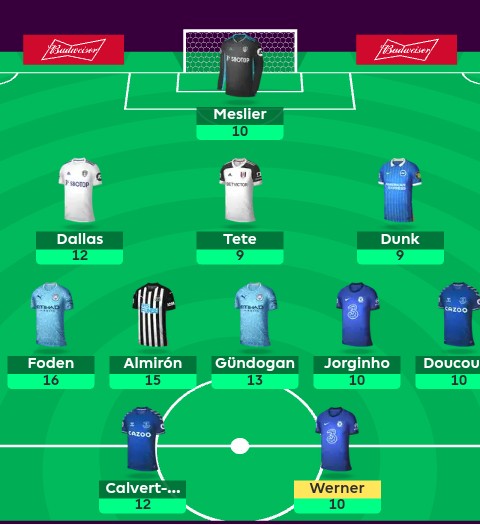 Consistently, week in, week out different crop of players have been making the top XI List has no player on this list this week, made it to the Top XI last week, this seem quite more tough for FPL MANAGERS to decide aright the players to select ahead of each game week.
Many players impresses this week but only few Stars had expected/anticipated average points.
Here's the full list:
MESLIER FOR LEEDS with 10points
MESLIER helped Leeds to a 2-0 victory against Palace has he made 3 wonderful saves and 3 bonus points. He cleared off Martinez who already had 9 points.
DALLAS FOR LEEDS with 12points
Dallas remains currently the most consistent defender has he made an assist and kept clean sheet.
TETE FOR FULHAM with 9points
Fulham played out Draw has Tete was instrumental for his clearance and got bonus points reward
DUNK FOR BRIGHTON with
Kept clean sheet and Bonus points
FODEN with 16points
So instrumental to 4-1 victory against Liverpool becoming the best FPL plater if the week after playing most of the season games from the bench.
ALMIRON GOT 15for Newcastle while DOUCOURE got 10 for Everton
GUNDOGAN
He should have had the highest point after scoring a Brace as well but he lost a penalty.
Jorginho helped Chelsea to a 2-1 victory has he had 10points.
CALVERT-LEWIN helped EVERTON draw Manchester United after making an assist and a late goal for a 3-all draw.
TIMO WERNER seems recovering under TUCHEL as he got a stunning double figure of 10points.
I want to believe that Gundogan, Dallas and Calvert-lewin should be on this list come week 24