The fantasy premier league will resume back this weekend for the week 5 games after many of the players have been away on international duties, they will now be returning back to the respective clubs. Many managers will now be thinking of how to get good points again just like i have be thinking for awhile now. In the week 4 games, my team manage to get 82 points which is my highest point so far since the league begins and that really boosted my overall points and took me up a little bit on the log table.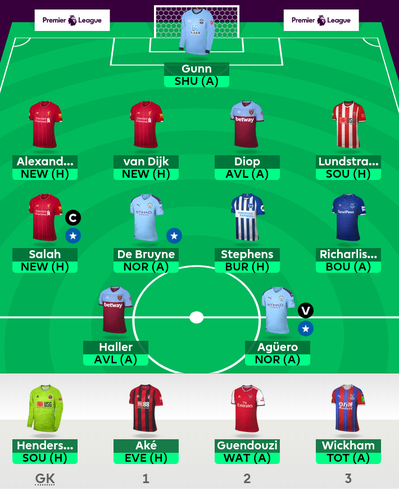 The league is now becoming interesting and i can't wait to see my team climbing the ladder to the top of the various league am participating in but it really requires some calculations and time to do so. This week i have to make use of my wildcard in other to let some players go and secure the services of new one that has been performing wonderfully in the league so far. In case you still don't know what wildcard is all about and how to use it, it is one of the free hit that allows you to make unlimited transfer without your points being deducted, you can even make changes to the whole team ahead of the week games and that see me making some changes to my team starting from the goal keeping department to the striking department.
Chelsea goal keeper Kepa has always be in goal for me from the beginning of the season and i have not be getting good points from him due to the poor form of the team at the back which has led to him conceding many goals so far, he has failed to keep a clean sheet in the league and ahead of the week 5 game, i decided to replace him with Sheffield goal keeper Henderson and Southampton goal keeper Gunn in replacement for Begovic who had left the league for loan and for the week 5, Gunn will be in goal for my team because he has been so spectacular for Southampton so far with 1 clean sheet in 4 games and averaging 15 points compared to Kepa with 5 points. Southampton will be facing Sheffield United and there high chance of him giving me better points in that game.
Looking at the defense line, i don't really make much adjustment to it because Arnold, Van Dijk and Diop are currently doing well but i have to bring in Lundstram for Alderweireld and see how many points i will be earning from my back line in the week 5. Liverpool will be facing Newcastle at Anfield and there is another probability of getting another clean sheet from Arnold and Vijk in that game and probably an assist from Arnold.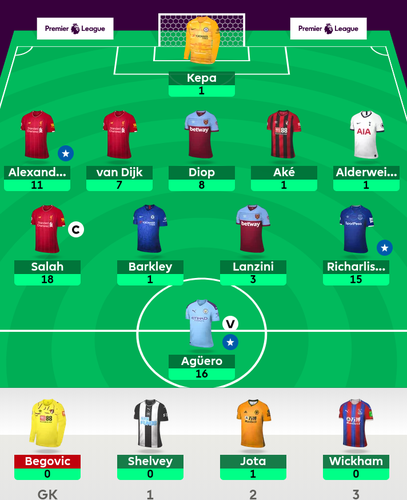 Coming to the midfield, i also make some transfer here and one of the biggest transfer i made here is bringing in Kevin De Bruyne who is currently the assist king in the league now and in an attempt to balance my expenditure, i replace Lanzini with Brighton midfielder Stephens while Richarlison still remains in the team due to his performance before the international break together with Salah.
Aguero still remain my main man upfront but this week, i have decide to partner him with West Ham striker Haller who is also doing well in the league. My team is now ready ahead of the weekend games and i don't think i will be making any adjustment to it.
I hope you find this post interesting and educating until then I remain my humble self @oxygen02. Thanks For Reading 👍