I have been trying to forgive my instinct since yesterday because for the very first since the commencement of the English League which also marked the beginning of my FPL race, i have never took a decision that will come back to hurt in my team selection. As one of the manager in the FPL, deciding on the players that will bring maximum points back for me week in week out has always be something that always give me tough time, after taking my time to understand the league better, i have found myself addicted to it because I always check in to see if there is any injury update about any of my player or there is need for me to bring in player that is doing better than any of my player. I want to say this that as a manager who is taking part in the league for first time, i have seen my points outshining some managers that has spent more than three season in the league but despite all the performance, I made the biggest mistake in the week 23.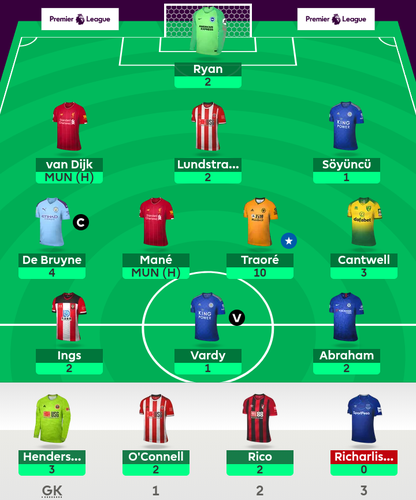 Out of 7,345,997 managers contesting in the league, my team is currently ranked 245,064 which is not really bad for a manager spending his first season in the league but the biggest mistake I made so far in the league is bringing in Southampton forward Ings for Wolvehampton striker Jimenez, due to the injury update on Manchester United forward Rashford during the week, I had to made some transfer which makes me bring in Abraham as a replacement and the fact that Chelsea will be playing against Newcastle, i was so optimistic that the young striker will find the back of the net. Thank God for the 2 free transfer which I had, so in other to balance the whole thing, i need to made another transfer which i did by bringing in Ings for Jimenez because at first, i never see Wolvehampton defeating Southampton yesterday and it was such a great come back for them as the match ended 3-2 in favour of the Wolves with 2 goals from Jimenez which at the end gave him 13 points which placed him on the same point with Manchester City forward Aguero.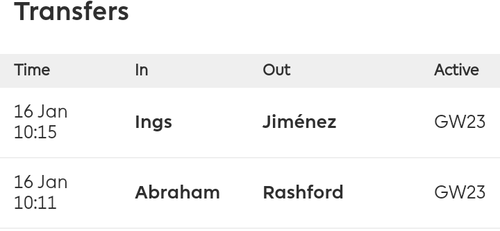 With 7 of my players played already, only Traore gave me double figure, 10 points to be precise with my total point on 25. My team was arranged in a 3-4-3 formation with Ings, Vardy and Abraham leading the team but the two strikers played so far failed to hit the back of the net. Despite Jimenez doing well for me since I bought him, I still went ahead to trust Ings ahead of him and that has be my biggest mistake so far this season in the FPL. Richarlison injury also came at a time when i couldn't bring in a better alternative for him and I had no choice than to make use of Cantwell who provided just 2 points.
I hope you find this post interesting and educating, until then, i remain my humble self @oxygen02. Thanks For Reading👍