The just concluded 19/20 season in the English Premier League happens to be the first time I am giving the Fantasy Premier league a shot and I must tell you, it was a great season looking at how my team Oxygen FC performed with the total number of points accumulated throughout the 38 league games. I don't have it in mind to make a review in the first place but I was motivated to do this review after receiving a mail from The Football Association of Premier League with a review of how my team performed in the 19/20 FPL season.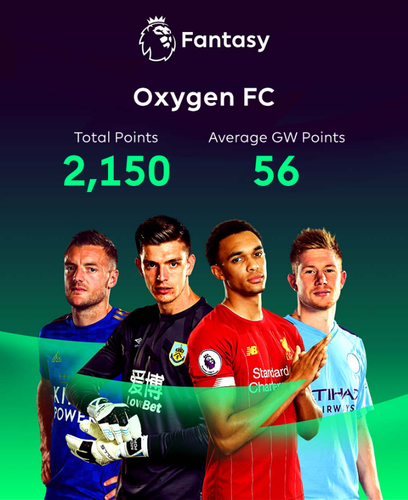 My team accumulated a total of 2150 points throughout the whole season and looking at the points accumulated by the winner 2548 points, it wasn't a bad season for a first-timer like me. I can't wait for the new season to start so that I can work on my lapses. My week 1 point was fair but not encouraging simply because I am yet to understand how some move works in the league. I was able to manage 55 points with Mohammed Salah hold my captain ban, the mistake I made in that game week is not using my triple captain.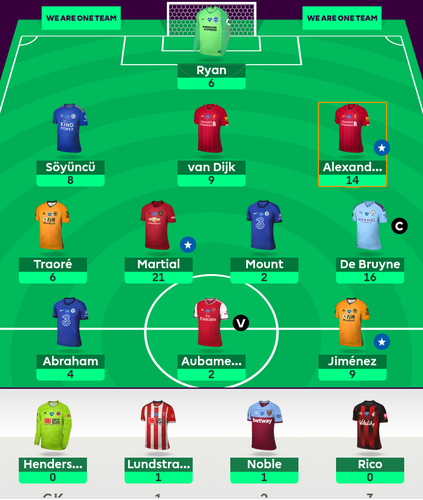 My best week was game week 31 where my team was able to gather 97 points, Manchester United attacking midfielder Martial scored an hat-trick goal against Sheffield United and was one of the players that hold my midfielder for the week, Manchester City key player De Bruyne who was my captain for the week also scored a brilliant free-kick against Chelsea. My team line up in a 3-4-3 formation with Brighton goalkeeper Ryan replacing Sheffield United goalkeeper Henderson with 6 points, Leicester City defender Söyüncü and Liverpool defenders Van Dijk and Trent Alexander-Arnold all delivered 31 points, my midfield comprises of Wolverhampton winger Traore, Manchester United AMF Martial, Chelsea AMF Mount and Manchester City AMF De Bruyne with 45 points delivered all together while my front 3 comprises of Chelsea striker Tammy Abraham, Arsenal forward Aubameyang and Wolverhampton hitman Raúl Jiménez all giving me 15 points.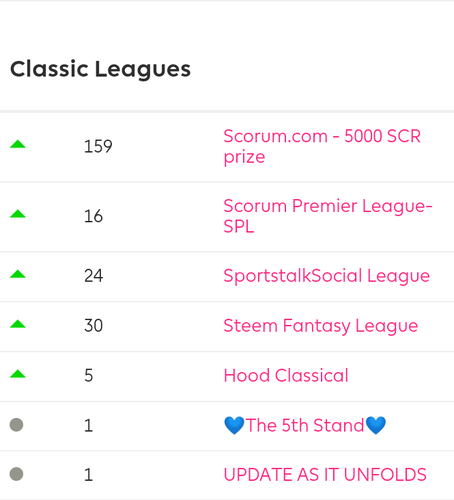 My best month in the league was December 2019 when my team managed 368 points between game week 15 and game week 20, game week 15 saw my team managing 62 points, followed by 77 points in game week 16, there was a decline in week 17, 18 and 19 respectively with 57 points, 55 points, and 51 points while there was a turn around in game week 20 with 66 points.
Let me make a recap of my highest rank for the season which I achieved in game week 6, that was when my team Oxygen FC ranked 232,080 from the overall 7,628,968 managers in the league, although game week 3 see my team jumping 2,018,550 places to be ranked 289,147.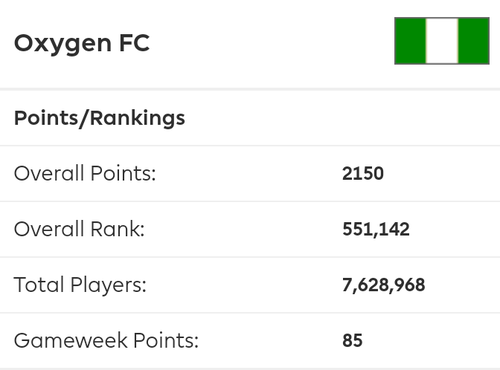 Manchester City playmaker an assist kind Kelvin De Bruyne remain my all-time captain after receiving the captain band for 14 times which in return gave me an additional 87 points, I made a total of 40 transfers which resulted in 36 points been deducted from my overall points and looking at my bench, I left a total of 316 points and the most painful of it is my bench for the final week, where my bench accumulated 30 points. It was a wonderful season as I finished on 551,142 position from the overall 7,628,968 managers in the league. Now looking forward to the new season and I hope to see an improvement from where I finished in the 19/20 season.
With Love,
Oxygen02