Emerson Palmieri who is currently away on international break with the Italian national team has became the favourite player in the left back for Chelsea this season under the management of Frank Lampard and he has so far be spectacular in that role, forcing Alonso back to the bench. Emerson played less game last season under Sarri and only Sarri knows why he has developed interest in Alonso over Emerson but due to the poor form of the Spanish left back, the Italian man has stood up to contribute his own quota in the team by starting in all the club 4 league matches so far and also featuring in the UEFA Super cup final against Liverpool.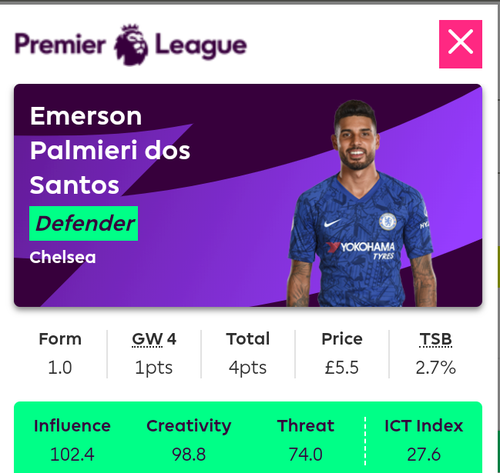 The fantasy premier league game week 5 will resume back on 14th of this month and there is need to be thinking about who should make it in or out of your selection. One major thing to note about fantasy league has to do with the number of goals, assist, clean sheet that your player has be able to accumulate. Currently now, it will be very hard for anyone to be thinking of having any Chelsea defenders in his/her team due to the poor form of the team at the back line. The team has failed to keep any clean sheet so far in the league this season but with the look of things now after the international break, there may be some solutions to this problem with the returning of Rudiger and Reece to the team at the back.
It has always be a major concern for many of us thinking about who will feature in our selection at the back to earn us a good points and according to statistics, Trent Alexander-Arnold is the most selected player in the back line due to his contributions for Liverpool so far this season and the player has gather 22 points in the fantasy league but another player i think you should also consider in your team at the back is Emerson because during the international break match game with Italy, Emerson was so spectacular by adding one assist to his name.
Not only that, when comparing his contribution to Trent Alexander-Arnold, Emerson had 6 goal attempts and 4 of it has really come from inside the box compared to TAA who had 5 attempts and 3 from inside the box. Emerson also had 4 shots on target while TAA has just only 1. I know you will be thinking of why is TAA now having more points 22 compared to Emerson 4 points. Emerson has failed to gather more pojnts just like TAA simply because Chelsea has failed to keep any clean sheet so far and most of his contributions has not resulted into goal for Chelsea and it is as a result of the team performance so far. When taking about tackle success rate, Emerson had 100% tackle rate compared to 50% from Trent Alexander-Arnold.
After the international break, the fantasy premier league will be back and Chelsea will be facing Wolves away and this may be the team possible line up in the back line with Rudiger returning back to the team, Reece, Rudiger, Zouma and Emerson and with this at the back, it will be so hard for Wolves upfront.
Note: i am not saying Emerson is better than Arnold with that comparison but having Arnold in the RB, i think it will be very good for you to consider Emerson at the LB as well because the result will soon be coming for Chelsea and for you to have Emerson in your team now at the price of £5.0 will really be a good one because when the result start coming for the Blues, i see his price rising to £6.5 or £7.0.
I hope you find this post interesting and educating until then I remain my humble self @oxygen02. Thanks For Reading 👍