We fans know how unpredictable and how competitive the English Premier League is. And, that was in full demonstration this week in the league. I thought Spurs hammering 6 goals past Manchester United was the worst result of the week. But wait, Aston Villa managed to defeat Liverpool and scored 7 goals. It is given that Liverpool has a history of giving away points to minnows and snatching points from the top table teams. But the way they were defeated by Villa was astonishing to see.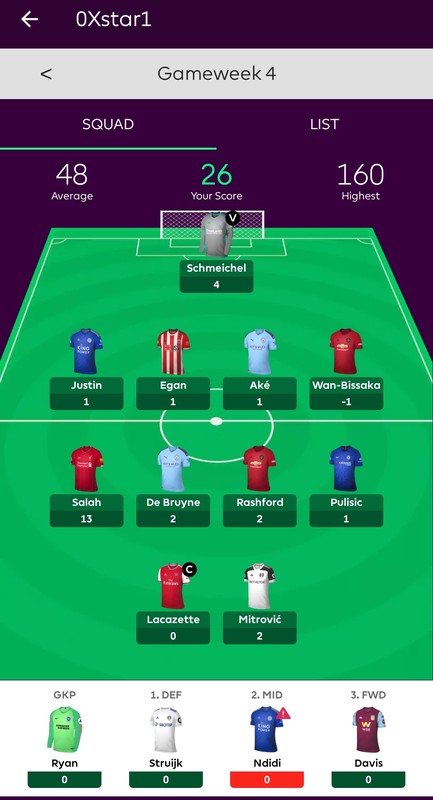 I should be thankful that Mo Salah finally came good for my FPL team and scored 13 points. That was the only silver lining of this gameweek for me as none of the other players scored double digits. The second highest point was scored by Schmeichel - 4 points. The total score was 26- way below the average score of 48.
I don't know why Arsenal did not play Lacazette. He has been saving for the last three gameweek totals. I I should seriously consider replacing Mitrovic at this point in time. He has not been the same player he used to be when he played in the top flight last time around. Not only him, De Bruyne, Rashford, Pulisic have been terrible so far. Should I still be believing in them or hire some new blood as a professional manager would do? It is a tough ask coz the results have been shocking so far with Everton hugging the limelight till now. The way Man City drew with Leeds, I have to say that this season seems to be something different. I don't know if the reason behind that is the fact that there is no home advantage anymore.
Whatever the reason is, I must accept that I am the worst manager of the FPL so far this season. That shows in my HIVE FPL standing - all the way in the bottom.
---
This post is also published on sportstalksocial.com