It's another fun weekend, the last weekend before Xmas celebration. It's going to be a great week with many football clashes and matches to see through.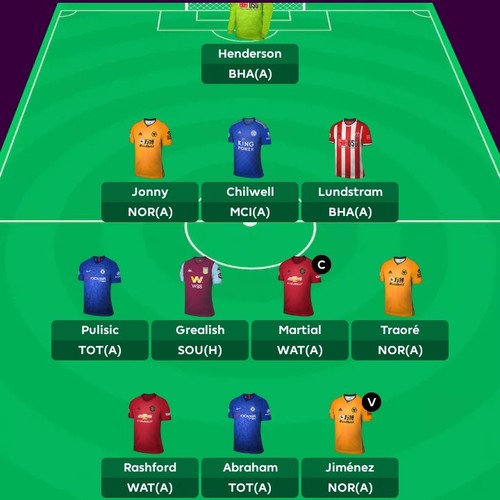 Above are my players or is my team for this very weekend, I sense it's gonna be a very joyous one with my choice of players.

Well, I just met my choice in Henderson last week, I sense him and his team to be a fan or fighters for clean sheet which is what I really need.

My choice of defenders here really keeps me happy because these guys are quite open to goal and contributions that could lead to goals but I'm quite scared of having Chilwell this weekend but we never can tell.

My midfield seems funny to myself but I just trust them anyway, I chose Martial as my captain just in the die minutes, something tells me his delivery would be perfect for my score.

I can boastfully say that the combination of these guys would give me nothing less than 15 points this weekend. Let's just see how it goes.

I sincerely feel pained not having Salah active this week but I pray and hope I don't miss him!
Nucleus Writes.📝.