Observing another tough week on FPL is really something inevitable, I really can't say much but it's really and many things can and would always change.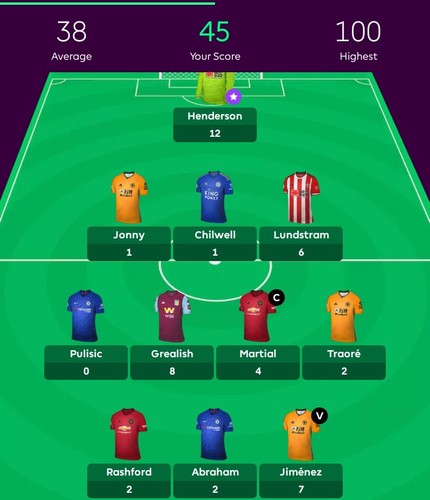 It wasn't poor but was quite low, 45/100 is below a credit but I was lucky to beat my opponent with that on FPL Cup.

This is actually the first time I'll be getting a cleansheet from my keeper on FPL, and this was actually the first time I adopted Henderson!

I wasn't so surprised to see my defenders producing lesser points cause I knew it would be quite tough for them to keep cleansheets because they all had potential opponents but at the same time, it was quite nice with Sheffield United.

I've always been picking my captain from my midfielders but with this I didn't feel pained that much but I missed Salah anyways.

With great expectations towards Rashford, something in me told me Rashford wouldn't make it big but I never knew United won't make it a week!

My bench has nothing to get me curious about during the weekend since Liverpool and Westham couldn't play but it was still painful that I couldn't get anyone to replace Pulisic for being absent.
Nucleus Writes.📝