Oh my god does that kid packs a punch! He's lining up quads like no tomorrow and he's only 13 years old. It's been a while I didn't see this. Stephen Gogolev is his name and he's here to kick butts.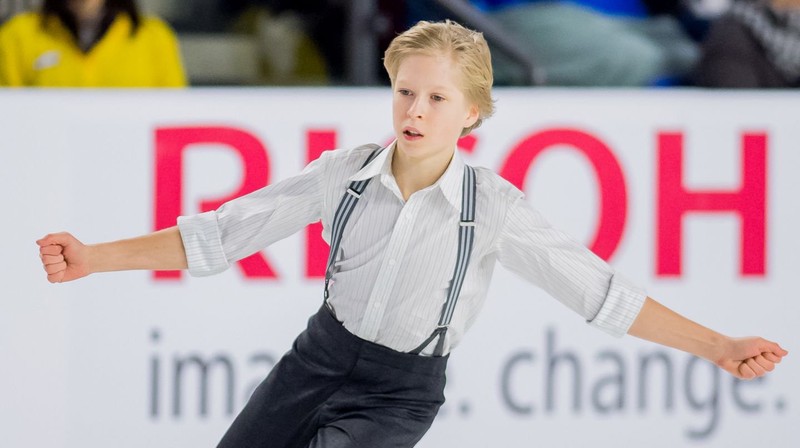 This little guy won gold in junior Grand Prix debut held in Slovakia. His goal was not to make history but just to land these particularly difficult jumps. It just happens he did both. At eleven years old he was already able to land his first quad, that's a remarkable feat in its own right.
Sadly for him, he couldn't compete because of his age at the time. He found it frustrating at times, but his patience was well rewarded. His next step is the senior Grand Prix and the culmination will be the Beijing's Olympics in 2022.
Nobody can tell if this little champion will make it there, but there will be a big obstacle in his way there: weight and growth. This is a common scenario where the skaters lose their ability to calibrate their jumps after the shifts in center of gravity hit. Fortunately, edge work session with pro's and lots of practice should remediate to that problem.
"The thing with Stephen is he's a very well-rounded skater, he's not just a jumper," Slipchuk said. "He can spin, his skating skills are strong, his base is very strong, and I think that's the key thing is he has a lot of areas that will help him continue to grow that mark. If you're just a jumper, you can only score so much."
On the plus side, with time, the artistic presence of the athlete will develop and technicalities will make a place for creativity and emotions. Whatever you will throw at him, be it flip, loop, toe loop, Lutz or Salchow, he'll do it.
If I had to bet on some ice skater in Beijing, I think I'd put some of my money on that little guy. He's fast, jumps high and is very technical. I think he can only get better with time and with awesome trainers the Olympics Gold Medal is within reach.
Gogolev's next Junior Grand Prix is September 12 to 15 in B.C. If he does well, he may earn a spot in the Grand Prix Final, Dec. 6 to 9 held in Vancouver.