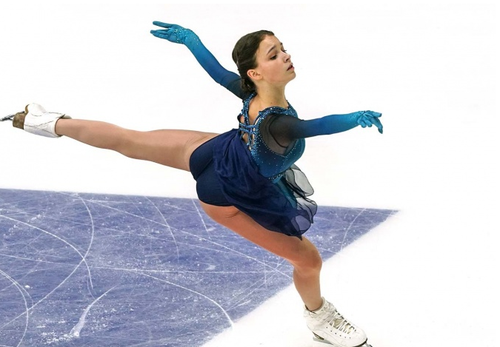 The World Figure Skating Championships brought the first scandal. Moreover, it is very loud. It's no secret that many little-known skaters are ready to throw mud at the champions. They use a variety of methods. But, as it turned out, they are children, compared to the 2-time world champion, Olympic medalist and champion in the Olympic team competition, skater from Canada Megan Duhamel. She skated through a young girl who is 19 years younger than her, Anna Shcherbakova.
It all started with the departure of Russian athletes
Now Duhamel took up coaching work. She brought a couple from Japan to the World Championship. But they do not show results from the word "in general". They cannot even fight for a place in the top 10. Most likely, this is what began to piss her off. Well, who to run into if not Russian athletes? Correctly? Everything to the point.
When Russian skaters flew to Stockholm, Duhamel drew everyone's attention to the fact that some of the athletes were without masks. She was indignant and broke up in earnest. Immediately, openly asked for the contacts of the organizing committee. I think it's clear why she needed this information!
The sequel turned out to be many times more cynical and most cruel
This so-called girl, an athlete and a professional figure skater, skated not only Shcherbakova, but also her coach Eteri Tutberidze.
In particular, she called Anna a sickly child, who is forced to go out on the ice. She rides in such a way that one gets the impression that the girl is being bullied. She does not want to skate, but she is forcibly forced. Moreover, if it does not show a result, then it will be severely punished. Duhamel noticed the sadness in the image of Shcherbakova and connected this discovery with the fact that the young figure skater has mental and mental and emotional problems. Like she needs to be treated, and not tormented, go out on the ice and participate in competitions.
Public reaction
Well, yes, no one has ever descended to such a lowland. Even the most vicious haters are not capable of such an act that a mature woman, world champion and professional coach has done. There is no excuse for Megen's act. She really understands what, how and where she says. But, apparently, it no longer has brakes. She is not capable of realistically and adequately assessing the situation.
On social networks, Megan began to be accused of all deadly sins. What does it have to do with it. Everything is real to the point. She was very guilty. In particular, she heard accusations of racism, bullying of a young girl and so on. Some fans began to openly threaten her.
All this led to the fact that Duhamel was forced to try to justify herself. But no one hears her anymore. Normal, adequate people who have not quarreled with their heads simply have no right to do this.
Thus, the World Figure Skating Championship brought the first high-profile scandal. Let me remind you that Shcherbakova took gold, and Tuktamysheva took 3rd place in the short program. In addition, do not forget about Mishina's and Gallyamov's gold. The more medals Russian athletes collect, the more loud and not so scandals there will be.