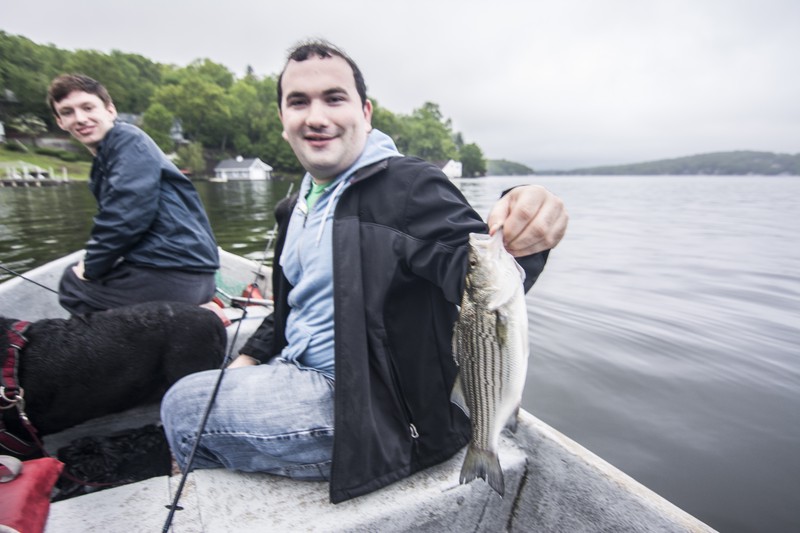 It was a Saturday afternoon in the middle of May when my phone rang. Bruce was on the line. "Hey Mike, have you seen the latest weather for tomorrow morning?" Although we had these plans for a couple weeks, Mother Nature had been threatening thunderstorms for the previous few days. Not good when you're out on a small metal boat in the middle of Lake Hopatcong, NJ. "It's looking fine now. I say let's go for it." I'd have to get up at 3:45am if I said yes, as the fish are most active around sunrise (about 5:30 that time of year). I thought longingly about my pillow for a moment, but then thought about the potential for an incredibly fun and unique experience, and quickly agreed. "See you then," I replied.
You may remember Bruce and Matt Litton from my piece on ice fishing back in February. The father and son, respectively, are a couple of seasoned anglers from Bedminster, NJ. A few months later, the arrival of spring brought a new type of fishing to try: trolling.
Trolling is pretty much the opposite of ice fishing; the whole goal here is to not stay in one place. First, you'll need a boat with an engine. Then you just drive slowly across the water, usually in passes close to the shore, with your fishing rods dragging behind you. Keeping in motion enables you to cover more of the lake. The more rods you have in the water, the better. Since hybrid striped bass are a good find and tend to be close to the surface this time of year, you're greatly increasing your odds of a catch, rather than standing on the shore or drifting in one spot. When your timing is right and the fish are active, "it's not even fair" how well you can do, said Matt.
I pulled up to Dow's Boat Rentals and saw Bruce and Matt drive in no more than a minute later, and we headed into the shop so we could arrange the boat transaction and get me a fishing license.
From just a few minutes in Dow's, it was clear that this shop is the center of a fishing community. Indeed, they happen to be the main live freshwater bait supplier in North Jersey. Laurie, who owns the shop along with her husband, chatted for a while with Bruce about everything from the weather to recent catches. Taking a look around made me realize that its home-like atmosphere caused a stress-free environment: no one else cared if we were holding up the line, and two dogs roamed around freely inside and out.
In fact one of them, Sadie, is Bruce and Matt's black lab and was along for the ride that day. We hauled our stuff down to the assigned boat. It fit the four of us comfortably: Bruce in the back in control of the engine, me in the middle, Sadie relaxing on the floor in front of me, and Matt up front. We got settled with the gear in place and then were off to a trolling lane that was very successful for them just a few days prior. "You're about to go on the ride of your life," Bruce had said to me back at Dow's.
And yet the day didn't exactly start out that way: despite recent experience and instinct, the water was rather quiet for the first half of the morning, most likely because of its unseasonably cold 60 degree temperature. At one point, Bruce and Matt's lines got tangled. Bruce fixed them, but a few minutes later it happened again. They reeled back in, while I left my line out. I felt some movement. "I think I got something," I said, not completely sure. Bruce believed that the line was just caught on the engine and, due to the regular pattern of tugging on the end, I deferred to the more experienced angler. When Bruce finished with the knot, he cut the engine to begin working on my problem. To our surprise, there was still tugging on the line. "Wait, maybe I do have something!" I reeled it in and sure enough, it was a small hybrid about 15 inches long. "Matt, grab the net," said Bruce. We took pictures of the casual fish and then tossed him back in, as he was slightly too small to legally take home for dinner. Plus he was nice enough to wait for me to get my act together, so he probably deserved a second chance.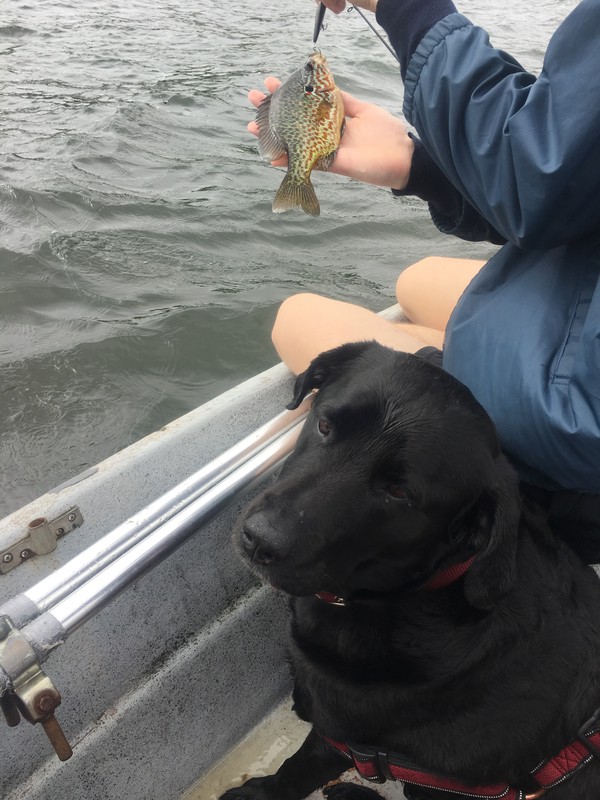 That unfortunately turned out to be my only catch that day, but Bruce and Matt fared a bit better. Not long after my catch, a small fish darted past our boat with a largemouth bass in hot pursuit. Bruce hooked the bass. We had nothing to show for the following two hours of trolling. We explored multiple coves of Lake Hopatcong in the process, all of them beautiful despite the occasional downpours from the clouds. It was becoming inevitable that someone would say the dreaded, "I guess we should just pack it in."

Then Matt said something, but not what I was expecting: "Fish on!" Bruce cut the engine, Matt started reeling, and then all of a sudden Bruce had one too. Out of the water came two pickerel. Our hope for hybrids subsiding anyway, we did a couple more passes of that area and sure enough: bang-bang! Two more pickerel. We went from scenic views and not much else to four fish in a matter of minutes; that's the excitement of trolling.After about five hours it was time to wrap it up, but not before Matt happened to nab a six inch pumpkinseed sunfish. Dark green on the top, light green on the bottom and with brownish-orange spots, the most photogenic fish of the day glistened during a brief stretch of sunshine. That fish was perhaps the best example of the broad diversity of marine life hiding just beneath the surface that we got to witness that day thanks to trolling.