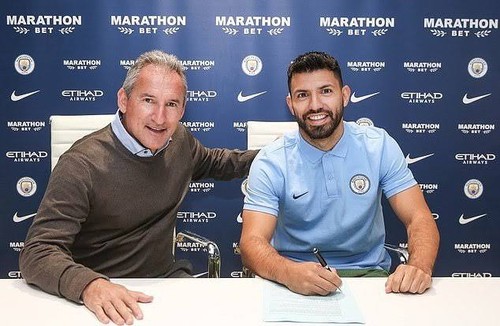 Sergio Aguero has been rewarded for his efforts in the City dream with a one-year contract extension that sees him tied to the Champions until 2021.
The contract extension puts an end to wild speculations about the future of the Argentine who was rumoured to be on his way out of the Etihad at the close season.
There had been speculations as to when his contract would end with the citizens earlier on.
Aguero is reported to have signed a contract extension in 2016 which was never announced by the club, the player or his agent.
There were even rumours he was ready to leave the Etihad after the summer World Cup during and a return to boyhood club, Independent was peddled.
Although the 30-year old does not see eye-to-eye with City boss, Pep Guardiola, the Argentine has flourished well under the Spaniard in the last two years.
After signing the contract, the former Atletico Madrid man said hiss main goal now is to win the Champions League.
Aguero is currently City's all-time goalscorer with about 209 goals