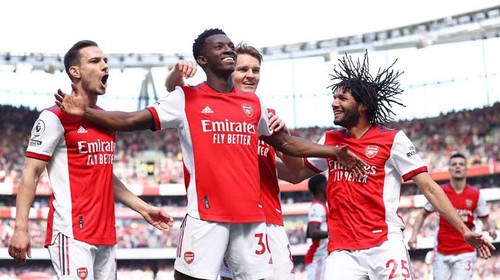 Oh, how time flies! Just a few months ago, one team was touted as title contenders because they have the GOAT and another were relegation favorites, even though we know the latter was just bants taken too far.
Who would have thought that Arsenal at this stage in the season would be eight points ahead of Manchester United, despite haven played two games lesser and just one point behind defending European Champions, Chelsea in third.
With the win against Leeds United over the weekend, we just got ourselves one leg into next season's Champions League. Like I've always noted, the NLD would be the deciding factor in this race that has gone to the wire. All Arsenal need to do at Spurs on Thursday is to avoid defeat and win one of their remaining two games, this is provided Spurs win their own remaining two games afterwards. Conte's men cannot afford any slip. Until after the Spurs game, you can't put your money on Arsenal.
I feel we started the Leeds game very well and that's how I like Arsenal to start games. The first 15 minutes are always very crucial and getting those two goals did a lot to the confidence on both sides, especially the manner of the first goal. Poor Ilan Meslier. I felt very bad for him as he's done better than to have been at the heart of such horror which almost jeopardizes their Premier League status.
Nketiah really has repaid the faith in him with his fourth goal in five games. I'm so excited about how he has grabbed this opportunity. I felt he deserved that spot ahead of Lacazette who had failed to deliver in preceding games. I'm almost tempted to say that Laca couldn't have given us the same output that Eddie has, especially with those runs that earned goals against Chelsea and Leeds. The sad thing is that he is nearing his end at Arsenal and may not have enough time to really earn that spot. I doubt he'd be renewing his contract, except if guaranteed a starting shirt. He wouldn't want to take the risk though. His case is very similar to Gabriel Jesus, who also picked form towards the end of his City career and the runours are rife that the Brazilian may be headed for the Emirates. Not sure I'm a big fan of that, but we'd only wait to see how it goes.
I'd have preferred that we didn't have to play against 10-men as we looked to take our feet off the gas after that Ayling sending off. To mention, I feel Ayling just got himself a very needless red because Martinelli was going nowhere. He could have even ended up stopping the ball for him. We didn't look to punish them with that one-man advantage and that's been an Arsenal problem since as far as I can remember. We played better when Leeds had 11 men on.
The second half, I believe we didn't start well and that's something I'm not happy about. We almost allowed Leeds back into that game. I can't understand why you would play against 10 men for over an hour, have control of the game and still end the game with a nervy finish. I'm sure Arteta must have noted this and called his boys to order. They can't do this against Tottenham.
My eyes are still on the third spot. Perhaps, we can usurp Chelsea and save our stress the troubles of having to play the qualifiers. Nonetheless, we have just one assignment, which I believe is the most important and achievable - avoid defeat at Spurs. A win would be perfect and help us seal fourth spot quicker.
Let's bring on the derby. COYG