- Xhaka's season so far
- The transfer decision on Xhaka in the summer
- What his absence means for Arsenal
Arsenal will be without Granit Xhaka for up to three months after the Switzerland captain limped off in their North London Derby win against Tottenham in late September.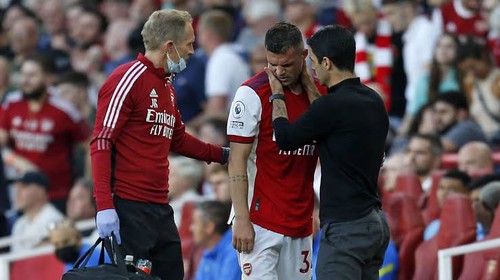 Xhaka was caught by a falling Lucas Moura, who had been challenged by Xhaka's teammate, Thomas Partey in the build up to Spurs' consolation goal in the game.
Luckily for the Arsenal midfielder, examinations have shown that he would not be requiring surgery and his road to rehabilitation commences immediately, however, he is not expected back with the team until the new year.
While it is a blow for Arsenal to be missing such an influential figure both on the field and in the dressing rom, it may also have come as a blessing in disguise for Mikel Arteta's side.
Xhaka's season so far
The Switzerland international has not had the best start to his season, having already missed out on a handful of games before his injury and would now be missing in action for a busy end of the year period.
The game against Tottenham was his first match back after returning from a three-match ban, following his red card in the 5-0.defeat to Manchester City in week two of the league.
Prior to the sending off at City, he had only just returned to the team after missing the start of the season recovering from Covid-19.
He is a strong character and should come back stronger after the turn of the year.
Arteta's summer transfer decision
Few weeks before the start of the season, the media space was rife with news that the deal for Xhaka to move to Roma to join Jose Mourinho was all but completed, with just paperwork to complete and that the player was desirous of leaving. It was thus shocking for a lot of people when the former Basel man stayed at the Emirates.
He signed a one-year contract extension to keep him at the club until the summer of 2024, a decision which should be applauded by Arsenal fans now in restropection.
Xhaka has had mixed relations with the fans, most glaringly his fallout with them towards the end of Unai Emery's reign, which led to stripping him of the the captain's armband and removal from the lines of captaincy. Arteta has, however, returned him to an assistant captain, a decision lauded by many fans due to his character and influence.
Despite the foregoing, he has made himself important as a leader in the team and many of his teammates attest to that. His play has also been very questionable, especially considering that he makes silly tackles and is almost a potential candidate to get booked in every game. He may be a case of a necessary evil, so to say.
Many wonder why the Xhaka with Switzerland plays differently from the one at Arsenal. With his country, he plays in a more advanced role of a creative midfielder, hence, he has lesser dirty works to do and rasher challenged to make.
The decision for Arteta not to allow him leave in the summer was a right move. First, he had a Sambi Lonkoga, largely inexperienced joining a Thomas Partey who has hardly stayed fit. There was a need for a regular influential figure in the mix to balance things up. Xhaka ticked this box. It was also important to have enough bodies in the middle, especially with the style of play Arteta wants. Because of this, the impact of his absence may be ameliorated by the covers available.
Last season, Arsenal's midfield was exposed, with Partey out for most of the times and Xhaka always walking a thin rope. They are more robust in the middle this season and that's a form of progress.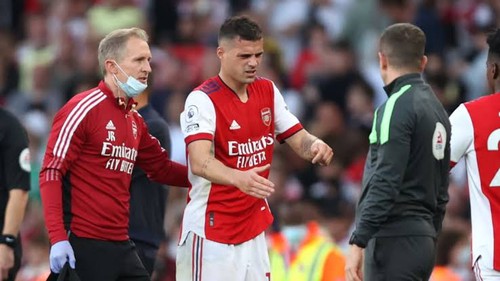 Why this may be a blessing in disguise
Since the departure of Santi Cazorla, Arsenal have struggled to find a creative in the middle of the park and the arrival of Martin Odegaard on a permanent deal from Real Madrid, as well as securing Emile Smith Rowe on a long term contract may be a pathway to solution in that regard. These are attacking minds who need cover.
Arteta has sometimes had to choose between playing Xhaka or Partey and whenever the two play, Partey plays more advanced, allowing Xhaka sit deeper and that meant living more dangerously.
With Xhaka out, Arteta may try playing with one holding midfielder in Thomas Partey. The Ghanaian is a perfect fix for this job due to his more mobility than Xhaka. He is able to transition faster from defence into attack, compared to Xhaka. He can cover the defence and can be less rash than his Swiss teammate.
This would afford Arteta the opportunity to try something new with his new team and hopefully find a lasting formula to the creativity issue that has haunted them this season, scoring just five league goals after seven rounds of games.