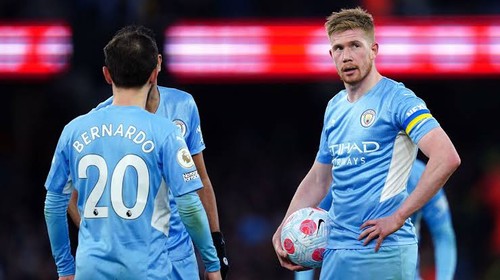 It was most unlikely something most Manchester United fans did not bargain for as they went into their clash with their city rivals, Manchester City at the Etihad and the home side expectedly brushed them aside with thumping 4-1 victory.
Of course, heading into the game, Manchester City were the better team in terms of form, but the hope for Manchester United hung in the fact that in Manchester derbies, the away side has won more times than the home side.
This logic was perhaps the push that United came into the game with, but it didn't look like that was going to be the case when Kevin De Bruyne hit his low left-footed effort into the bottom corner after receiving a cross from Bernando Silva within the first five minutes.
It has always been City's nature to start every game on the front foot and is the reason they always tend to score first in games, which naturally is a psychological boost for any team.
If I say that all goes on the night were scored by City boys, I may not be out of order as Manchester United's equalizer from a swift counterattack was finished off by former Manchester City boy, Jadon Sancho and in respect to his boyhood club, he didn't celebrate his goal, which was good to see despite not really hitting it for the Blues.
As in many Manchester derbies, Kevin De Bruyne always comes to the party and he wasn't looking differently in this one as he was always in the right places at the right times and this time, the 12 yard area was the perfect place to be when he restored his team's lead just six minutes after Sancho had drawn things level.
A bit fortuitous for the goal, which was started started by Phil Foden, who looped the ball over Viktor Lindelof but saw his shot saved at the near post by David de Gea. And the scramble for the ball led it to De Bruyne, who thumped into the net with venom.
City were the better side and despite that United equalized early on, the odds were still very much in favour of City to win the game.
We could see the talent in the United game as they came close at different times, but they seemed to lack the cutting edge in the final third. Bruno Fernandes tried to pick the pocket of spaces with Paul Pogba running down his shoulder, but all didn't bother City.
Anthony Elanga was another bright spot for United as he made daring moves to beat the City defence, maybe with a little more help, he'd have gone a step further.
Manchester United have been known to be comeback kings in the league, however, with an opposition like Manchester City it was definitely going to be a herculean task, one that became harder when City struck a third.
In what looked like a training ground move, City increased their lead when De Bruyn's corner from the left was not played into the area for headers to attack but straight to the edge of the box where it was met by Riyad Mahrez on a half volley into the bottom left corner. A very difficult technique to execute, but the Algerian did it with so much ease and precision.
It was a case of being caught off guard by United as no one saw that move coming, hence there was no player near closing him down. Notwithstanding, they should have done better with that as in set pieces, you block all possible holes and knowing that Mahrez doesn't often go into the mix for the headers, he should have been picked up.
United looked to have given up all ready, especially after the third goal. You could see their heads down, showing they was no spirit left for them to fight back.
Like they were little concerned about their opponents' plight, Pep Guardiola's men in their usual fashion were always going for the kill and it was no surprise that they added a fourth deep into added time when the boot of Alex Telles narrowly played Mahrez onside as he latched onto a pass from Ilkay Gundogan. It was a very close call as the goal was initially disallowed but later given after VAR review.
Liverpool had thrown the challenge at Manchester City with their own narrow win against West Ham and City duly responded with that convincing win over their city rivals.
While Liverpool may succeed in pushing this title race to the wire, I still believe Manchester City have what it takes to nick it. If, however, they decide they want to throw the title away, which I highly doubt, Liverpool are definitely willing to take advantage.
For Manchester United, their predicament doesn't look like it's over yet, even after the sacking of Ole Gunnar Solskjaer. Although it was just the second loss under Ralf raagnick in 14 games, they have been far from impressive in almost all of their games since he took over. There's been a little shift, if any at all from their overall play. I still believe they should have allowed Michael Carrick steer the ship till the end of the season given he was able to hold the forth for the three games he handled.
The critics of Cristiano Ronaldo could at least cut him some slack as he was absent and couldn't have been blamed for his team's poor outing.
Ragnick had earlier mentioned that the best they could achieve this season is 4th place, but as it stands, that lifeline isn't even looking feasible with Arsenal ahead of them and with three games in hand over them. West Ham and Tottenham are also breathing down their necks and their next six fixtures do not look friendly as they have to face Tottenham, Leicester City, Everton, Arsenal and Liverpool in their next five games.
We can only wait and see.