No matter how long or far a king travels, his royalty will always come in handy and his place will always be on the throne. This was the case for Cristiano Ronaldo as he made his second debut for Manchester United in their 4-1 win over Newcastle United.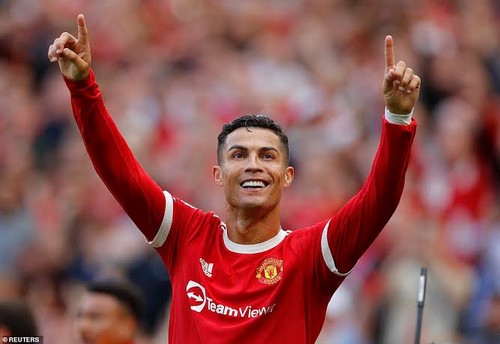 Completing a deadline day move from Juventus to rejoin his former club, after reports earlier emerged of his joining their bitter rivals, Manchester City, Ronaldo was given his iconic number 7 shirt previously worn by Edison Cavani.
The hype before he kicked his first ball for United in his second coming surely would have heaped a huge amount of pressure, but for a player of his calibre, it felt like business as usual.
United got their first sight at goal in the 19th minute. A cross from Luke Shaw was met by an unmarked Raphael Varane, whose header flew just wide of the post, with Freddie Woodman beaten.
Another change availed itself to the hosts in the 30th minute. Ronaldo moved well to cut in from the left side to set up Bruno Fernandes but his shot from range needed a help from Jadon Sancho at the far post which did not come.
Ronaldo couldn't have asked for an easier second-debut goal as he struck in additional minute of the first half. Mason Greenwood has moved well from the right side, cutting in to his left foot to let a shot on the near post. His effort wass saved by Woodman, but could only go as far as the feet of Ronaldo, who gladly tapped in to open his account.
Newcastle responded well after the interval and got their equalizer 11 minutes into the restart. A swift counterattack led by Miguel Almiron, who played Alexander Saint Maximin through. Maximin then played the ball across to Manquillo who fired home into the corner.
Poor marking by Newcastle allowed Shaw a lot of space in the middle in the 62nd minute, which allowed Paul Pogba to pick out the defender. The English man slid the ball through to Ronaldo, who had to beat Isaac Hayden, before slotting in between the legs of Woodman for his second of the game.
The visitors almost responded again five minutes later. Joelinton and Matt Ritchie played a quick one two, before Joelinton went past Varane and fired a shot straight at goal, but David de Gea was on hand to push out for a corner.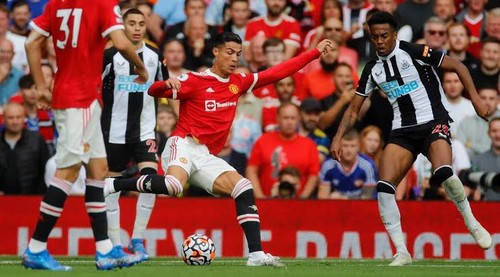 The hosts will not allow their own chance pass them by in the 80th minute as Bruno Fernandes increased their lead. De Gea started the counterattack with a lovely ball to Greenwood, who exchanges pass with Pogba. The French midfielder finds Fernandes on the edge of the box, who takes a shot beyond the reach of Woodman.
It was a rare name on the scoresheet when the hosts got their fourth goal of the day as Jesse Lingard benefitted from another silk play, with Anthony Martial stepping over the pass from Pogba to allow Lingard take a touch before firing home his first goal for the Reds since his return from his loan spell at West Ham.
Concluding Thoughts
It was a performance on the return of Ronaldo that met expectations, which was hailed by fans of both teams.
The 36-year old stealing the show on his return and helping United bounce back from their draw in the last game against Southampton.
His arrival has definitely put United in picture of title favorites. However, he may not be at the same level he was few years ago. Nonetheless, he definitely brings a lot to the table.
Newcastle won't feel bad losing to a United side that had Cristiano Ronaldo. They showed glimpses of what we saw of them in the closing weeks of last season.
Steve Bruce knows well that his boys can build on the positivities to take them through the coming games.