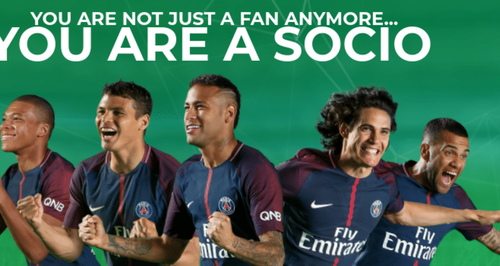 Paris Saint Germain announced on Tuesday that a multi-year partnership has been struck with blockchain outfit, Socio.com.
Socios.com will work as the official Cryptocurrency partner of the club, alongside the Club to develop PSG's blockchain strategy, to help the French champions leverage the technology to enhance and evolve its fan engagement.
Paris Saint-Germain become the first team to join the Socios.com platform and as part of the partnership, Socios.com will work alongside the club to develop the world's first Fan Token Offering (FTO) for the PSG fanbase.
The PSG fan token will be listed on the Socios.com platform and will allow fans to engage with the Club through mobile voting and polling platforms.
Owners of token will also be granted access to exclusive fan rewards, content and experiences.
This partnership forms part of the club's broader strategy to integrate blockchain technology, to enhance its relationship with fans and business operations.
Tansactions will be fully digital, secure, transparent and entirely connected to the real fan experience through socio.com.
CEO and Founder of Socios.com, Alexandre Dreyfus said: "We are delighted and very proud to have signed Paris Saint-Germain as our first club to work on the evolution of its fan engagement strategy through the Socios.com blockchain platform. As well as being a leader on the football pitch, Paris Saint-Germain is also a digital pioneer and this demonstrates its leadership in innovation. We admire the Club's vision in being the first club in world football to adopt this new technology and set a new standard in fan engagement." Socios.com will create a new connection between Paris Saint-Germain and its global fanbase, helping the club to integrate blockchain technology as part of its fan engagement strategy."