Manchester City have taken a giant stride towards claiming the most coveted champions league trophy w following their 1-2 victory away at Parc des Princes against PSG.
The former England champions benefitted from two Howlers from PSG to come from behind to lead the tie with two away goals, heading into the return leg next week.
It was PSG who started on the front foot, piling a lot of pressure on Manchester City in the opening exchanges and made the English team look ordinary. A time during which, all of the social media was agog as to how City had been made to look ordinary.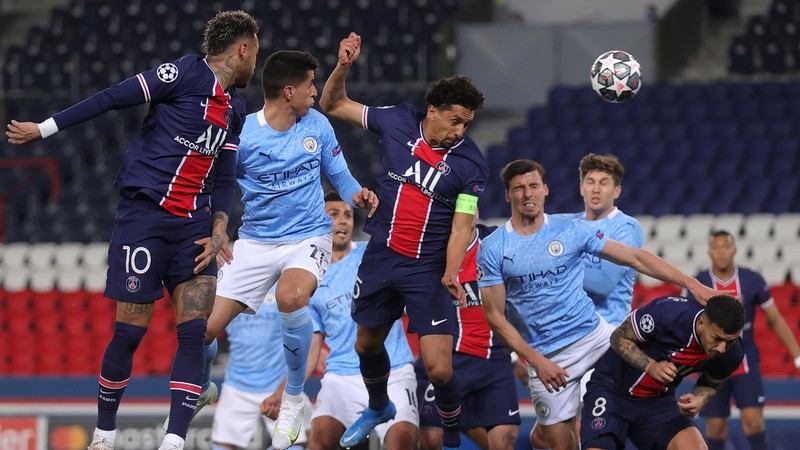 Within the first 13 minutes, the hosts had come in sight of their visitors' goal, getting a handulf number of corner kicks, with Neymar at the fore of both. First, his effort blocked by a recovering Kyle Walker for a comfortable save for Ederson Moraes in goal, before his low effort was also deflected unto Ederson's path by Ruben Dias.
Their pressure yielded results after 14 minutes when captain fantastic, Marquinhos broke away from his marker to head home an Angel Di Maria corner from the right side.
The 26-year old Brazilian who has amassed over 300 appearances for the Paris outfit has now scored in two successful knockout rounds (quarterfinal and semifinal) in two consecutive seasons, becoming the third player after Cristiano Ronaldo (2011/12-2013/14) and Antoine Griezmann (2014/15-2015/16) to attain such feat.
Manchester City responded well with their own efforts and should have equalized in the 31st minute when a Joao Cancelo cross neatly picked out Bernando Silva on the outside post, but the Portuguese outstretched effort was not going to beat Keylor Navas who parried away at the near post.
It was PSG dictating the pace of the game onwards through to half time as they went into the break ahead.
Pep Guardiola must have injected his players with a dose of massive confidence as the Blues came out full force in the second half, relegating PSG back into their own half, then the usual came.
From a corner kick in the 61st minute, Manchester City played outside the box rather than a direct cross into the 18-yard box. A Kevin De Bruyne eventual cross from outside the box was misjudged by Navas which allowed the ball to settle in the bottom corner. Game on.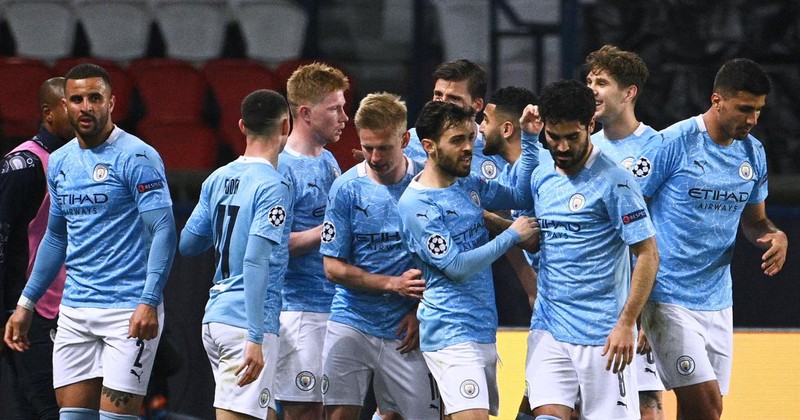 City who, prior to the match, were unbeaten in their last 21 away games were geared up for a full turnaround and seven minutes after their equalizer, the turnaround was complete.
Phil Foden won a free kick just outside the box. Both De Bruyne and Riyad Mahrez stood over the ball but it was the Algerian who curled a powerful shot into the PSG wall. Distraughtingly, Kimpembe and Paredes both created a gap for the ball between them and Navas could do nothing to stop the ball from finding the net.
City were not looking to slow down as they were determined to get more goals but it never looked like happening with a host ofntheir chances going wide.
PSG's hope of a comeback was daunted in the 77th minute after Idris Hana Gueye was shown a straight red for a rash challenge on the back of Ilkay Gundogan and will be unavailable for selection in the return leg.
With the win, Guardiola's side have now won 18 successive away matches in all competitions, scoring a whopping 46 goals in the process and conceding a meagre nine.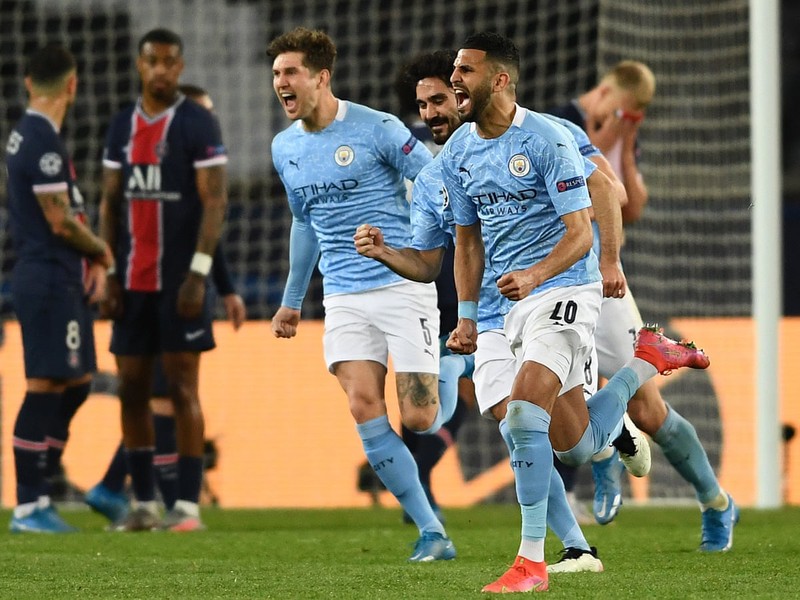 Concluding Thoughts
Like the other semifinal tie, there is still everything to play for, considering the pedigree of both sides and the quality they possess.
Both are hungry for champions league glory. PSG, last year's losing finalist will want to go one better and Guardiola will be looking to finally get his hand on his first champions League trophy at the Etihad.
A exciting second leg looms.