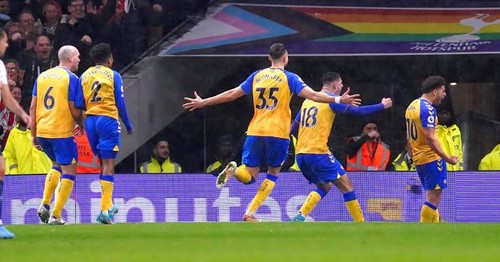 Steadily, the campaign is beginning to reach its climax as teams look to end the season strongly. Every team understands that every single point at this time matters.
It was good to see that for the second straight week, there were no matches postponed due to Covid-19. Understandably, this is because the number of positive returned cases have dwindled and teams are almost all back to full capacities, even those whose players went on international duty, except for those with injuries.
The only game that couldn't hold was the tie between Brighton and Chelsea as a result of the latter's engagement at the FIFA Club World Cup currently taking place in the United Arab Emirates.
25 goals were scored across the nine centres, an average of 2.8 goals per match. Four of the six wins were by home teams. Only Southampton and Arsenal recorded away wins at Tottenham and Wolves respectively.
The Saints' performance for me would be the pick of the week as they came back from behind twice to defeat Spurs 2-3. Arsenal also had to dig deep for about 20 minutes with 10 men to secure all three points at Wolves.
Here we go!
Burnley 1-1 Manchester United
It's been five games without a single goal for Cristiano Ronaldo in Manchester United colours. This is his longest goal drought in 12 years. Desert.
Scoring the equalizer, Jay Rodriguez became the first Burnley player to score against Manchester United at Turf Moor; that's a run of eight games. It was also the first goal David De Gea has cconceeded there. Broken.
Newcastle 3-1 Everton

This was Newcastle's first consecutive Premier League win since the finals days of the 2020/2021 season. Interestingly, it took them out of the relegation zone. Worthy win.
Frank Lampard is winless in three meetings against Eddie Howe in his managerial career. That's the most he's played any manager without winning. Howe.
West Ham 1-0 Watford
The Hammers have won their last four games against the Hornets, beating four different managers in this period: Javi Garcia, Nigel Pearson, Claudio Ranieri and now Roy Hodgson. Nothing changes.
Jarod Bowen has only failed to score in one of his last five games for West Ham (against Manchester United), having scored against Norwich (2), Leeds, Kidderminster and now Watford. String.
Wolves 0-1 Arsenal
The winner against Wolves was Gabriel Maghaeles' fifth of the season in the Premier League, three of which have come away from home. This is as much as Alexandre Lacazette has also registered in the competition this season. Addition.
The Frenchman has, however, been directly involved in six goals in his last seven Premier League games with two goals and four assists. No Arsenal player has more assists in the league than him. Contributor
The Gunners have had four players sent off in their last six games across all competitions; Gabriel Maghaeles (Manchester City), Granit Xhaka and Thomas Partey (Liverpool), Gabriel Martinelli (Wolves). Indiscipline
Liverpool 2-0 Leicester City
Diogo Jota has scored 16 Premier League goals for Liverpool this season. The only player in the league to have scored at least five goals with each of his foot and head. Dynamic
Since making his debut for Liverpool in the Premier League, Trent Alexander-Arnold has created 300 chances in his 150 games for the Reds, only surpassed by Kevin De Bruyne's 464 in this period. Creator