The 2018/2019 Premier League season has come to an end with Manchester City defending their league successfully, to become the first team in almost a decade to do so and majority of the individual awards have been determined. Those yet to be decided are :Goal of the Season and Manager of the Season.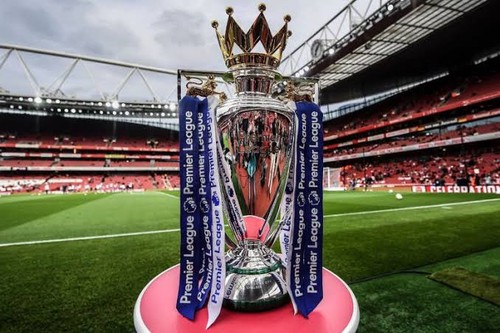 Here is a breakdown of all decided Awards :
Top Scorers
For the first time in the history of the Premier League, three players have to share the award and coincidentally, the three were the final shortlisted players for the CAF African Footballer of the Year Award in 2018M
Mohammed Salah - 22 goals (Liverpool)
Pierre Emerick Aubameyang** - 22 goals (Arsenal)S
Sadio Mane - 22 goals (Liverpool)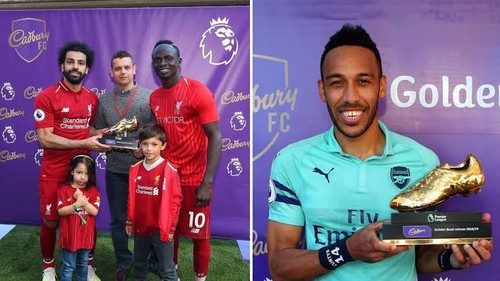 4. Sergio Aguero - 21 goals (Manchester City)
5. Jamie Vardy - 18 goals (Leicester City)
6. Harry Kane - 17 goals (Tottenham)
6. Raheem Sterling - 17 goals (Manchester City)
8. Eden Hazard - 16 goals (Chelsea)
9. Callum Wilson - 14 goals (Bournemouth)
10. Alexandre Lacazette - 13 goals (Arsenal)
Golden Glove
This award is given to the goalkeeper with the most clean sheets and Brazil number 1, Alisson Becker, beat fellow countryman Ederson to the award with just one clean sheet.
Alisson Beck- 21 clean sheets (Liverpool)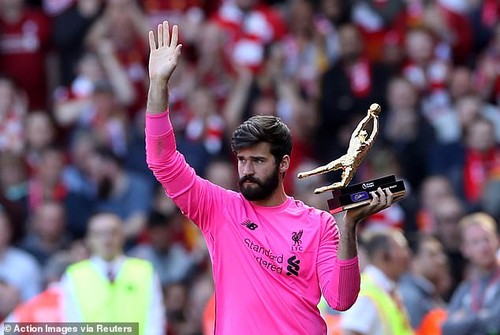 2. Ederson - 20 (Manchester City)
3. Jordan Pickford - 14 (Everton)
3. Kepa Arrizabalaga - 14 (Chelsea)
5. Hugo Lloris - 12 (Tottenham)
6. Martin Dubravka - 11 (Newcastle)
7. Neil Etheridge - 10 (Cardiff City)
7. Kasper Schmeichel - 10 (Leicester City)
9. Lukasz Fabianski - 7 (West Ham United)
10. David de Gea - 7 (Manchester United)
Playmaker Award - (Assist Leader)
This award which was introduced in the 2017/2018 season and first won by Manchester City's Kevin de Bruyne, is giving to the player with the most number of assists.
Chelsea's Eden Hazard claims the award with 15 assists, one less than the number of goals he notched this season.
Interestingly this season, Liverpool duo of Trent Alexander-Arnold and Andy Robertson both made it to the top five.
Eden Hazard - 15 Assists (Chelsea)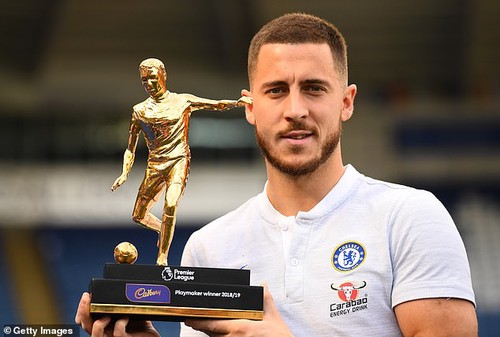 2. Ryan Fraser - 14 (Bournemouth)
3. Christian Eriksen - 12 (Tottenham)
3. Trent Alexander-Arnold - 12 (Liverpool)
5. Andrew Robertson - 11 (Liverpool)
6. Leroy Sane - 10 (Manchester City)
7. Raheem Sterling - 10 (Manchester City)
8. Callum Wilson - 9 (Bournemouth)
9. Paul Pogba - 9 (Manchester United)
10. Mohamed Salah - 8 (Liverpool)
EA Sports Player of the Season
This is the award given to a player who was most impressive during the course of the season and Liverpool's Virgil van Dijk is no less a worthy winner. Below is a list of the nominees from which he emerged: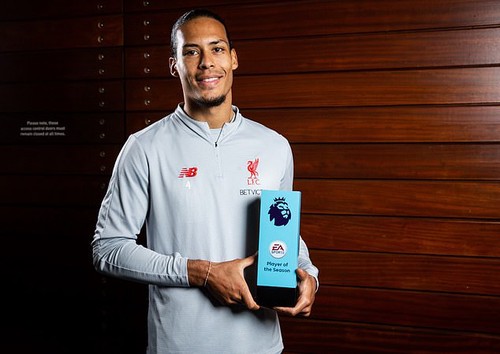 1. Sergio Aguero (Manchester City)
2. Eden Hazard (Chelsea)
3. Sadio Mane (Liverpool)
4. Mohamed Salah (Liverpool)
5. Bernardo Silva (Manchester City)
6. Raheem Sterling (Manchester City)
7. Virgil van Dijk (Liverpool) - WINNER