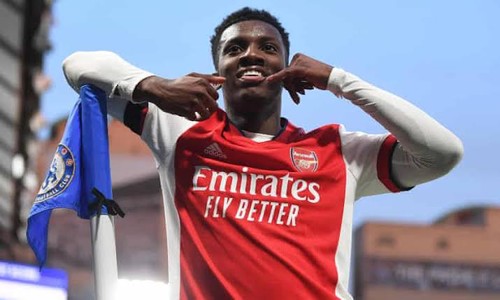 I remember when a friend mentioned how much his team's performances affect his mood, I guess I wasn't ready to really accept it until last night when Arsenal went all the way to Stamford Bridge to bring it down crashing on Chelsea's head. I felt very light last night, slept well and on my way to the office this morning, I just could feel that I was having some exciting sensations and all I could think of was the victory last night. Cool, right? 😎
Maybe I need to start working on my coaching badges because Arteta implemented almost what I have been clamoring in the past weeks and evidently the result was better. I wonder why Arteta refused to play Elneny for a very long time, knowing full well that Lokonga is not ready from what we've seen in his performances through the season. I almost feel it's a case of Arteta knows the necessary thing(s) to do, but he just wants to be like his boss, Pep and try some unpopular moves.
Credits to him (Arteta) for eventually doing the right things, even though I feel he left it too late. Imagine what it would have been had Arsenal won those three matches they lost, they'd be nine points clear of Spurs. That would have given them cushion ahead of their games against Manchester United and Tottenham.
Holding before the game mentioned that he would be ready to play whenever he's called upon and I was pleased with his performance in the three-man defence that Arsenal played.
Almost all through the game, I could hear Arteta screaming "B" (calling Bukayo Saka) and doling out instructions. Saka played in what looked like a wingback position on the right and it looked like he was a bit confused on where he was to be at the beginning of the game. There was a part I heard Arteta screaming to him to go inside when Chelsea had the ball, allowing Tavares room to mark James and Saka providing cover for him.
I think Arteta has now understood that although Tavares doesn't look like he's fully ready, he just needs more time to gain confidence and build his game. Perhaps, his long stay on the bench has taken a toll on him.
Oh, Eddie my man. I have in recent weeks called for Arteta to give Nketiah more playing time ahead of Lacazette, who has bee guilty of profligacy. Don't be surprised Lacazette could have missed that first chance converted by Eddie; we've seen him miss clearer chances and Eddie duly repaid that gesture of starting two consecutive Premier League games with his first two goals of the season and the first brace of his Premier League career. It may be quite surprising that Nketiah was just getting his first career brace at senior level after so many years with the Gunners.
I feel a bit bad for Nketiah that he's out of contract in the summer because he has definitely paid his dues in terms of loyalty to the club, but he hasn't really lived up to his talent. I side with Ian Wright who is a strong believer in Nketiah's talent and has never been shy to proclaim this over the years. I wish he could stay beyond the summer, but he's not the ready-made striker that Arsenal need at this time and he's come off age at 22 to be an understudy after seven years at Arsenal with two of those spent with the youth team. I'd not be surprised if he stays though, but he sure knows he needs more playing time. Maybe a move to a smaller team where he'd get more playing chances would help a lot. On a lighter note, it was a good night to score having being released by Chelsea in 2015.
The first goal was a real poacher's goal. In fact, his two goals were trademark goals of a poacher. The first, thanks to Christensen's miscues back-pass, his striker instinct made him continue the run and latched onto the ball to slot pass Mendy. The second was another instinct-fueled goal as he was first to react to a ping-pong ball after a mix-up in the Chelsea 18-yard box to poke past Mendy.
After Arsenal scored that first goal I wasn't too comfortable because there were a number of misplaced passes that kept me edgy and just few minutes after taking the lead, Werner's shot from outside the box deflected off two Arsenal centre backs, Gabriel and White, leaving Ramsdale with no chance and confirming my fear.
I particularly love the second goal because of the way it started from the back with Xhaka's nutmeg to lead the counterattack which was finished by Smith Rowe passing the ball into the bottom corner. Oh, how he made that goal look so easy from the edge of the box. It felt like a competition of nutmegs on the night as we witnessed about four: three from Arsenal and one for Chelsea. One of Arsenal's was against referee Jon Moss, who almost confused Xhaka on the ball.
It looked like Chelsea always needed Arsenal to score for them to wake as they equalized through Azpilicueta. I wasn't comfortable with the way the goals were going both sides. My fear was if Chelsea should score first, I wasn't sure how Arsenal would react but "when you need a goal, call 🤙 Eddie" was the answer as Nketiah gave us that third goal.
With the third goal and the clock winding down, Arteta proceeded to manage the game, taking off Smith Rowe for Cedric. I wasn't so convinced because at that time there were still about 15 minutes left on the clock. That was so much time for Chelsea to come back. Credit to the boys, they manatianed the low block and waited for the opportunity to hit on the break, at that time, Martinelli had also come on for Nketiah, so, we counted on his pace.
We were into additional time and although Chelsea saw more of the ball, they were unable to penetrate the Arsenal defence and were also misplacing passes. They looked off on the day too. While I was believing at that point that three points were almsots certain, the cushion I craved came with that penalty.
Hmmmmmmmmm! Very controversial, I must confess. At first sight, it was a clearly unneeded bundling to the ground of Saka by Azpilicueta, but better angles showed that Saka had Azpi's hand locked and "sold" that foul to him. While I was happy the penalty was given, I was hoping VAR would overturn the decision. Shockingly, it stood and Saka did well to send Mendy the wrong way.
I've not read any papers this morning, but from the reactions I've been getting online, no one seems to be talking about the penalty and even Tuchel mentioned that "it was an unforced foul" by his team. I must say I was shocked to hear that. VAR has definitely created as much controversies as it has helped solve. For a team that has been on the receiving end of some unfavorable VAR decisions, I believe VAR should have chosen a more important moment to compensate Arsenal than a goal that was not going to change the outcome of an already done game. This is why I feel many may not be talking about the penalty.
Big shout out to Elneny, who put in a really good shift and I hope Arteta doesn't try any unnecessary experiment against Manchester United. Elneny should continue his partnership with Xhaka in that middle and maybe the same lineup. I was glad Cedric didn't start as well. Hopefully, Tomiyasu would be fit enough to feature, although I hope it wouldn't be a fixture too early for him.
Big ups to our amazing star boys, Saka and Smith Rowe who have joined the elite league of Nicolas Anelka as the youngest player for Arsenal to have reached 10 Premier League goals in a season while they are under the age of 21. Hopefully both or either can surpass it and set a new record.
Chelsea also weren't at their best on the night, neither was it a vintage Arsenal performance, but that's what makes a game of football; sometimes, both teams play well and sometimes, one team has to be "off" for the other team to carry the day. Tuchel complaining about their pitch being a problem is a surprise to me. Not sure I've heard a home team manager complaining about their own turf, rather, it's always the other way round.
Onto the next one. Our dream of the top four is back alive and I hope we can move as step closer with another win against Manchester United at the weekend.
#COYG 💪