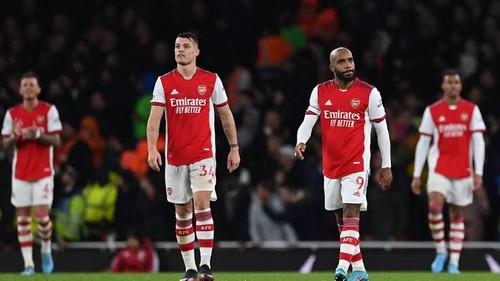 As a fan or player, even when you know a team is in a better position than yours, you never admit defeat until you get out there and allow the duration of the game speak the results. My pain was in two folds yesterday. First, it was that Arsenal lost and even though it doesn't really cause any movement on the log, Tottenham are three points closer after their own 2-0 win at Brighton and we need to do better in our remaining two games at hand. The second was that in my FPL team for the week, I played Matt Cash who returned just 1 point ahead of Joel Matip who returned 18 points on my bench. Double dilemma 😭.
Of all our remaining games, if there was any team I was worried about, it definitely was Liverpool and my worry was confirmed last night after Liverpool took their chances in the second half to defeat Arsenal 2-0.
Despite Liverpool being our nemesis in recent times, I was still hopeful of a great game and I wouldn't say I was disappointed as Arsenal were arguably the better side in the opening half. To an extent also in the second half, albeit Liverpool only took their chances when they came. The game was very tight and it would only be down to errors for goals to come out.
Liverpool made their own error, that blind backpass from Thiago Alcantara to Alisson Becker, which Alexandre Lacazette intercepted in the 18-yard box. Unfortunately, he couldn't get it cleanly round Alisson and had to hold up play to set up Martin Odegaard, whose shot was saved by the returning Alisson. That moment there was it for me. It would have been the moment Arsenal had to take something away from that game and I feel Odegaard should have done better. He could have hit the ball higher than he did because the level he put it was a favorably one for the goalkeeper.
But when Arsenal made their own error, Liverpool were not going to let is slide, even though there were of different shades and Arsenal's could have been prevented as Diogo Jota fired Liverpool into the lead by scoring at Aaron Ramsdale's near post. I'm sure Ramsdale himself knows he should have done better than to be beaten from such tight angle given that he had made more dangerous saves. I am not going to overflog him for it. It's normal for players to have a bad day, even the top goalies in the league, the likes of Alisson, Ederson and Hugo Lloris have made worst blunders. The important thing is for him to shake that off and go again. . I'm not even sure he's made any error as grave as those ones have made. So I won't allow that one error soil all the good work he's done.
The second goal was obviously a defensive lapse as the defenders failed to pick up that run from Roberto Firmino. Maybe a little bit of ill luck when Bukayo Saka tried to win a throw off Andy Robertson close to the Arsenal area, but the ball came back in-field instead and that was how Robertson was able to set up Firmino.
It was definitely a good game by Arsenal and against another opposition, they'd have won with that performance. However I'm tired of this mentality of "we played well and the result does not reflect our performance". Arsenal need to move beyond this point if they really want to be challengers. It's not sufficient to play better and then lose. Same thing happened in the reverse fixture at Anfield where it was deadlocked at half time but the Reds came rampaging after the restart.
I feel Arsenal didn't do really bad at the back as they were able to contain the Liverpool attack. Sadio Mane aside from that his disallowed goal was not allowed to come into the game. The midfield also marshaled things well and once again, Thomas Partey put in an impressive performance. Of course, that counts for nothing as Arsenal lost, but that he's able to keep improving his form is a positive. I'm just hoping this his trip on international duty to Ghana for their World Cup qualifier against Nigeria would not bite that form away. It was a rare sight to see Granit Xhaka finish that type of game on a clean slate. Kudos to him.
Gabriel Martinelli was immense on the night and I think he was our best player. He caused a lot of trouble for Alexander Arnold. If I recollect well there was only one occasion he was unable to get past the England right back and that was in the closing stages when Liverpool were already winning. I think it's already common knowledge that Trent isn't the best when it comes to defending for all the potential he exudes going forward and we all saw that exposed again last night against Martinelli. However, I think the young Brazilian could have done better. In some instances, he held on to the ball for too long and put himself in tight positions. I understand he likes to take players on and that's something Arsenal needs from their wingers. We saw that when he beat Trent and Matip on the left for that cross that no Arsenal player could connect to. But, he needs to learn that there are times he should release the ball early. Hopefully, it's a learning curve for him.
For the very first time in almost like forever, Saka didn't really come to the party, even though he had a decent game. He's not one known to have decent but fantastic games and I think his absence also contributed to our no-show. Something I failed to see was him switching with Martinelli. I strongly feel that had he switched, he'd have been more effective in exploiting Trent's lapses, but they hardly did. Maybe that was the instruction from the manager, but he could have done better.
There were times I didn't really like the body language of Lacazette. He tended towards giving up when Liverpool were trying to pass the ball around in their defence and his body language was not encouraging for those watching; I wonder how it'd have been for those who were on the pitch with him. He needs to understand that as a leader, a lot of leadership doesn't necessarily need to come by words, but actions.
One of the three games in hand is out and we're left with two, both away at Tottenham and Chelsea. I'm very positive we can get very good results on both grounds. But first, we have to overcome Aston Villa who have been trying to save their season and with a lot of history between both clubs; former players in Martinez and Chambers and the Liverpool - Arsenal rivalry from the playing days of Steven Gerrard and Philippe Coutinho, who was reportedly offered to Arsenal before his move to Villa, it's going to be a banana skin but I'm positive.
Arteta now has a selection headache facing him with Emile Smith Rowe back. The challenge would be where to play the England international. He had before his recent injuries played out wide in Martinelli's position, but yesterday, he came on to replace Odegaard, who also didn't find his mojo in the number 10 role. And Martinelli has done well in that position. I'd prefer he starts with Smith Rowe against Villa though. There's just some sleekness with his style of play; that again we saw in his cameo appearance yesterday. That's sweet headache if you ask me.
Lets go again boys. We're down but not out. 💪