This has long been coming and if nothing is done in earnest, we might just be digging our own graves which I believe we already are digging.
The appointment of Unai Emery as the successor to Arsene Wenger, after the Frenchman's decade of revolutionising football at Arsenal and in England, was met by various reactions. Some happy to just see a "change" in the dugout, some not totally convinced about Emery's style, especially in the wake of his disastrous outing with Paris Saint Germain against Barcelona in the Cham[ions League where they squandered a qualification ticket they already had in their hand. And for some people like myself, they were indifferent and the idea of a new manager was not a bad idea.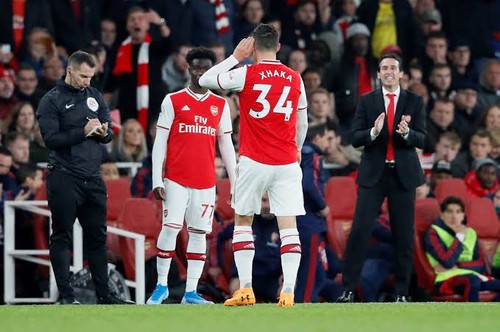 Since then, I personally believe *nothing as really changed and in fact, seems worse*. First, it was Emery's questionable tactics, selections and susbstitutions. There were even rumours about him having communication issues with the player. Then, it was the appointment of Granit Xhaka as Arsenal captain.
Even before Xhaka was appointed captain, as a fan, I disliked his style of play, discipline and lack of vision. He finds it difficult on many occasions to change direction during games, he makes silly fouls and costly errors. Oh my! Just remembered that he cost of this same fixture against Crystal Palace last season with his dirty foul on Wilfred Zaha.
The height of it came yesterday when he was subbed off. Of course, I think like me, many Arsenal Arsenal fans questioned his captaincy and his contributions to the team's overall team play. Auba would make a better captain in my opinion. So, the fans cheered his substitution, which, even though I am, not a fan of Emery's many substitutions, was a necessary one as we needed more attacking options than defending, something Xhaka would struggle to provide.
He would not be the first player to be jeered by his club's fans. While I am in no support of whatever abuse the fans were accused to have meted out to him and his family, I honestly kick against that, I think as a professional first, then the leader of the club, you should stoop so low as yanking off your shirt in front of the fans and the whole watching world and using the f*** word for the fans, it's very unprofessional.
As a leader, you are automatically the scapegoat on behalf of the team. You bear the brunt of whatever is coming to team first. A leadership position is meant to be one of service. You are not there for yourself but for those who chose you or whom you are representing. Leadership is more than just putting on the captaincy armband or exchanging handshakes with the referee before the commencement of games. It's a heavy responsibility, only for the brave at heart and cool-headed.
The truth is, the fans will always have a say because they are the ones who use their hard-earned money to buy tickets. I even wonder why some still buy season-long tickets when Arsenal keeps disappointing. They are a major stakeholder in the club and they would voice if they are not getting value for the money they are paying.
**MY OPINION**
The media and a lot of spectators have been looking at this from a quite incorrect angle and drawing sympathy and making the fans look bad. Not to justify their boos but looking at it from another angle, I believe the fans were crossed with Xhaka for the following reasons:
1. We were chasing a game, draing 2-2 for a game we were initially in control of and Xhaka was *strolling* like wwere were already coasting and wasting time. Who on earth wastes time when his team is chasing a game?
2. His strolling triggered the anger of the fans who were tired of his consistently poor performances on the field.
Even though it may be very difficult, I believe Xhaka should sincerely apologise for that. Stripped of the captaincy armband because he has not shown (in my opinion) any quality deserving of the armband (forget what happened yesterday). He is not the leader we need. Afterwards, he should be committed to improving his game and taking one for the team, even if it means him being substituted.
In my subsequent posts, I would still love to talk on Emery's appointment and the Ozil issue.
What do you think?