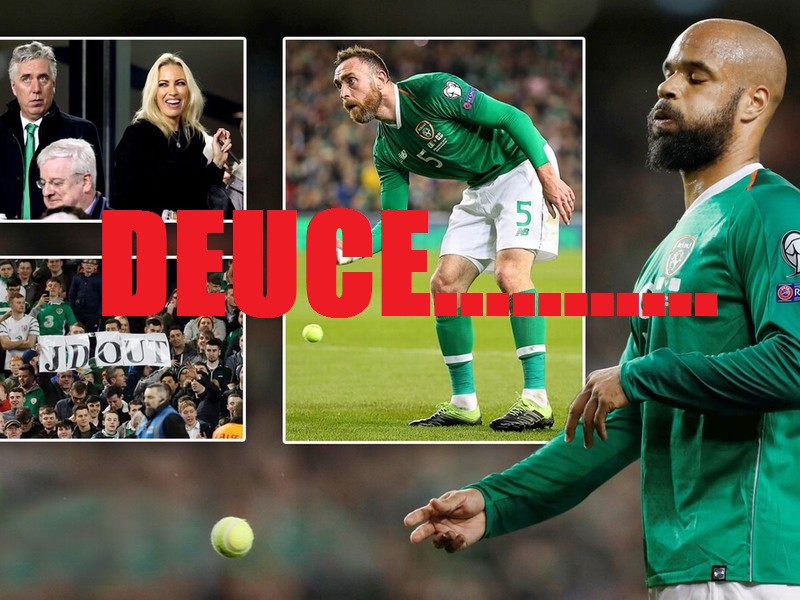 The little man was tired this morning, as he woke up for school after his second Ireland International match and his first competitive fixture. It's a long night for five year old and it was 22:30 by the time we got home, although he was asleep in the car by 21:45. But, the memories of the night will live long in his memory. He is delighted with his new scarf and the match program, but I suspect today will be a long day for him at school. Hopefully the excitement of telling his friends about the match will carry through until finishing time at 13:30, and then he can catch up on some sleep tonight. I was delighted that he got to see his first goal, and as soon as the ball hit the back of the net, I picked him up in my arms and celebrated with my brother and nephew and him and all the people around us. The noise was thunderous and he had never seen anything quite like it before. I think he may well be hooked now! He spent the rest of the game asking me:
"Dad, when is there going to be another goal, that celebration was the coolest thing ever!"
I was a little bit worried that he'd get bored, as 90 minutes is a long time for child of his age, but he didn't and seemed to love every minute, most especially, the malteesers, which I was drip-feeding to him throughout the game to keep him onside. I won't bring him to all the games, as I don't think the late nights are a good thing for him, but every now and again, I will take him along as a special treat.
THE MATCH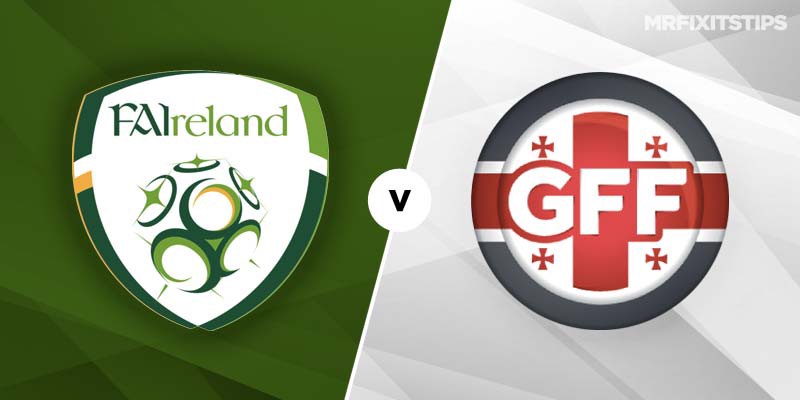 The nerves were collectively jangling in the build up to the game. The game against Gibraltar on Saturday looked shakey, nervy, unstable. Did the wind and plastic pitch play a large role in that, as big Mick told us, or were we witnessing what we were going to see throughout the rest of the campaign. I said to my brother before the match, that the first 10 minutes would tell us a lot and so it proved.
Right from the off, this was a new look Ireland. We have become used to negative defensive football in the two previous reigns under both Trapattoni and O'Neill, and to be fair to both of them , they each helped us to qualify for major tournaments, so I won't lambaste them here. That brand of football under those two was difficult to watch though, and particularly when the results were not going our way. Mick has come in now and given the players some freedom to express themselves, to go out and play some football. He gave them trust that they had superior footballing skills and technical ability than their opponents last night, and so it proved.
Although Ireland only won the game 1-0, it could have easily been 2-0 or 3-0, such was our dominance and we created lots of very good chances. Had the finishing and decision making in the last third been a bit sharper, this could have been over as a contest after the first half had ended.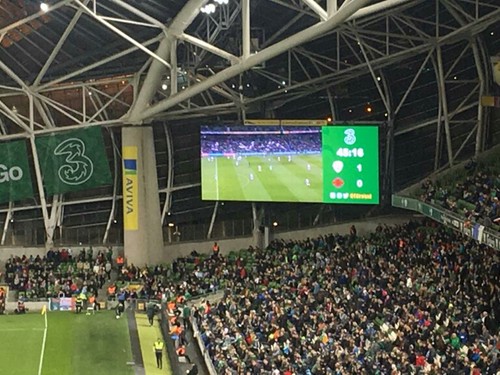 The script writer had other ideas though, and the longer it stayed at 1-0, the more worry that swept through the stadium that Georgia might just nick one. We have done it ourselves on many occasions when playing against superior opposition - stay in the game, and you might just get a sniff of a chance and maybe nick a point or three. The Georgians had that chance on 85 minutes when one of their players unleashed a powerful drive from outside the box, which had Randolph scurrying across his line. The ball clipped the outside of the post and went wide, but Randolph was not getting there. You could almost here the collective intake of breath of some 40,317 people as the ball sailed through the air. The near misses and disappointments of recent years ready to resurface, but luckily the ball coasted wide and the fans could breath again.
THE TENNIS BALL PROTEST
The Irish goal was preceded by something I have never seen in a match of any description. After 33 minutes, a small section of the crowd sang songs lambasting the Football Association of Ireland and principally the man embroiled in controversy of a very suspect €100,000 bridging loan. This was not the first controversy surrounding John Delaney either. He is never too far from scandal here in Ireland. It was widely expected that he would finally step down from his position as CEO of the association, but he again tried to dodge the bullet by resigning as CEO, only to give himself a new title of Executive Vice-President, with a cut in salary from €360,000 to €100,000. Once again, scandalous behavior from Mr Teflon.
There was talk before the match of a tennis-ball protest, and it made national radio and newspapers, but no one was certain if it would happen or not. It did happen just after the 33rd minute and after singing those songs, tennis balls were hurled onto the pitch from a number of stands, but the majority came from the singing section where the majority of the members of COYBIG supporters club sit.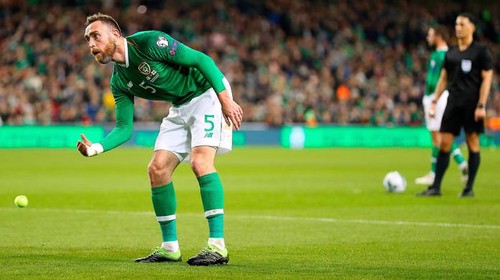 People of course have the right to protest, but I didn't agree with doing it during the match, especially seeing as we were doing so well up until that point. There was a two minute delay while the tennis balls were getting cleared then up stood Conor Hourihane to score his first senior international goal for Ireland. Maybe the tennis balls weren't such a bad idea after all!! The fear was that we would sit back then, like we often did in recent campaigns as soon as scored. Last night was not the same, and Ireland continued to press and stay on the front foot, and in doing so, they managed to limit the Georgian chances to speculative shots from distance.
Something to have a laugh at
There were a few funny photos doing the rounds about Delaney and his escapades which I'll share below to give you a laugh.
Will this be the end of Delaney?? Somehow, I don't think so....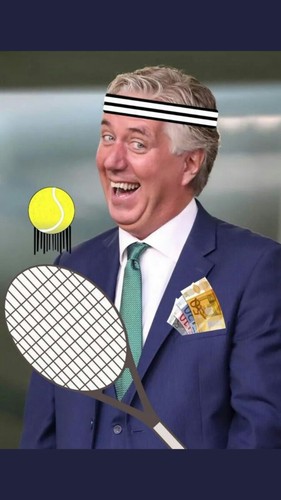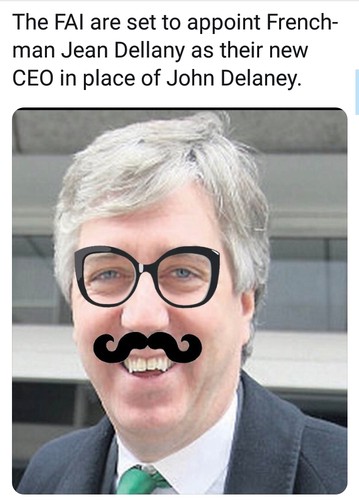 Thanks as always for reading.

Peace Out.