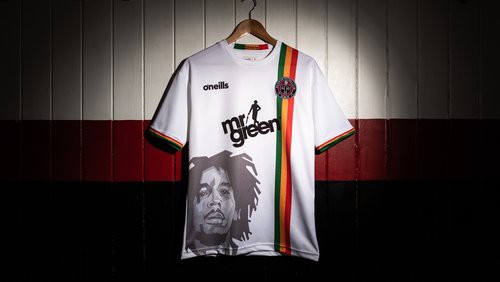 This is the away jersey that Bohemians FC were planning to playing in next season and I think you'll agree that it's a jersey that many music and football lovers would really like to have in their collection, and not just Irish fans.
Bohemian Football Club or Bohs as they are known are a professional football club from Dublin, Ireland. They compete in the top division and are the oldest team in the league, going strong since 1890.
Orders from around the world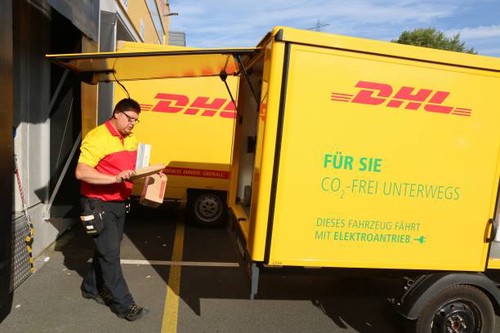 When orders started to flow in from all around the world after Bohs launced a pre sale a few weeks ago, it was looking like a huge success for the club and at €59 per jersey, it was looking like it was going to be a great little earner for the small club from Ireland's East coast. In fact, in a few short days pre orders had flooded in from 45 countries across 5 continents. The jersey image was shared across the various social media platforms, and it was proving very popular.
Why Bob Marley?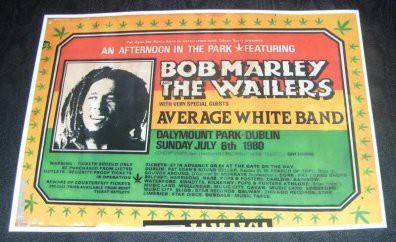 The idea behind the Bob Marley shirt was to pay tribute to Bob Marley's final outdoor performance at Dalymount Park in July 1980.
The reggae man from Jamaica put on a show to remember on Bohs home pitch, and rumour has it he had a kick about on the pitch earlier that day, as he was a soccer fan and could throw a few shapes with a ball.
It was to be Marley's last outdoor concert, as the Jamaican legend lost his battle to acral lentiginous melanoma the following year in May 1981.
As a result Dalymount park and Bohs FC has a special relationship and bond with Bob, which is what led to the idea of using his image on the jerseys.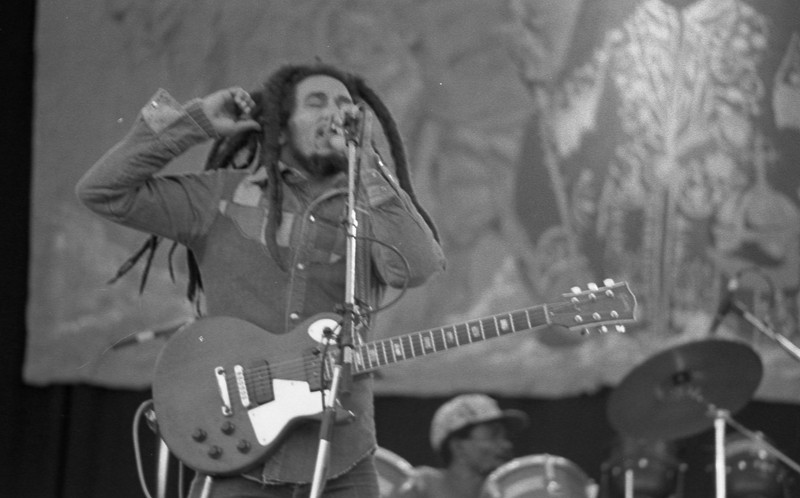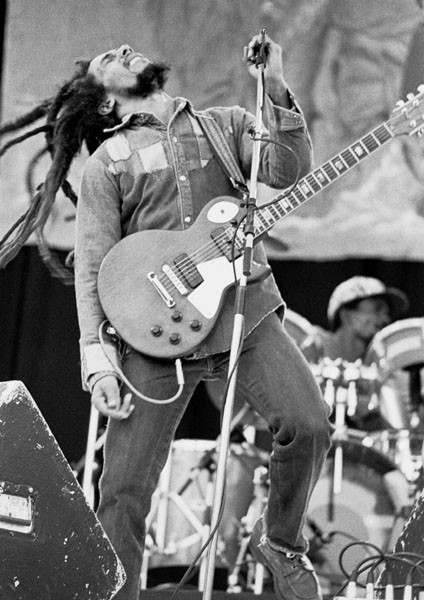 So far so good
Bohemians busied themselves behind the scenes and purchased the licence to use the iconic image of the Reggae legend in their new design.
They worked the Rasta colours of red, yellow and green into the design also, and I think you'll agree it turned out brilliant.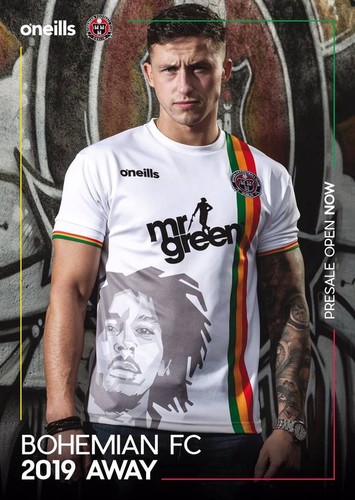 They were nearly there now, the design was complete and it was killer, time to start up the marketing machine and get the jersey out there. This they did and the reaction was unbelievable, with record orders flooding in. Then came the bad news.
The Bob Marley representative agency got in touch and told the League of Ireland club that the licensing company who had sold them the rights to the image had no authority to do so, as they did not own the image.
Bohs did try to redeem the situation and made an attempt to buy the licence through the agency directly. Unfortunately contractual complications meant that this could not happen.
New Design
They were forced back to the drawing board, and came up with another pretty cool design to try and represent Bob, and it is pretty cool as well, but for me it's not a patch on the original and it's a real pity that this jersey wasn't allowed to go ahead, I think I'd have ordered one myself, as I do collect jerseys..
Here is a look at the new design. The clenched, raised fist, is a symbol of solidarity and support used to express unity, strength and resistance.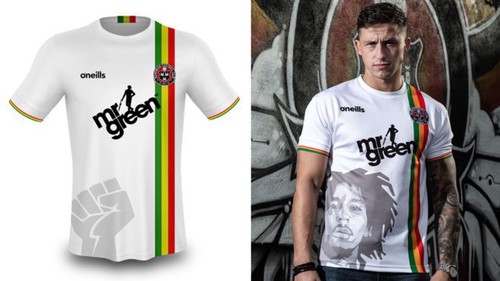 Also, here's a link to the Bohs club shop in case any of my sports-mad scorum friends want to buy one.
https://www.shop-bohemianfc.com/collections/frontpage/products/2019-away-jersey

Charity
The club have decided to donate 10% of the jersey sales money to a very worthy cause, which I find highly commendable and is not too common place in the modern game. This excerpt from the Boys website outlines the charity contribution:
We have decided to give 10% of our profits from this jersey to a fund, which will continue the already fan-led and previously fan-funded initiative of bringing people living in Direct Provision to games at Dalymount Park. These are among the most unrepresented people on our island.
Lucky Khambule, coordinator of Movement of Asylum Seekers in Ireland, said: "MASI warmly welcomes this initiative by the Bohemian Football Club. Bohemians have been assisting MASI and bringing people in Direct Provision to games for several years and are very proactive on numerous other social issues too.
"We hope the jersey is a huge success and allows for many more trips to Dalymount Park in 2019 for those affected by Direct Provision."
As always thanks for taking the time to read my post.

Peace Out.