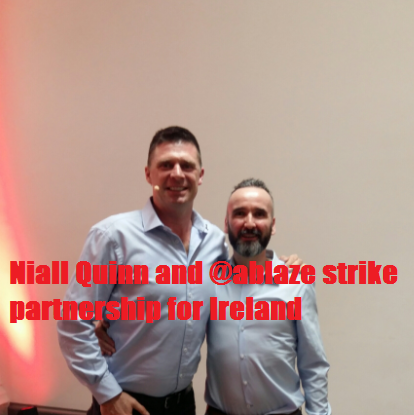 What a fantastic night last night was. I was lucky enough to win two tickets to the Off The Ball Roadshow, as I was telling you all yesterday in this post.
I caught up with an old buddy who I gave the second VIP pass to for the Odd The Ball special in the National Concert Hall. We met up straight after work and started the evening off with a few nice big creamy pints of Arthur Guinness's finest Irish Porter. The pints of the black stuff went down a treat, as the stories passed over back, peppered with laughter and merriment. In fact the craic was so good, we lost the run of time a little bit and had just enough time to have a really quick Fish and Chips dinner in a restaurant across the road from the pub, before scarpering up to the venue.
As usual I bumped into someone I know on the way, so after a quick chat with them, we legged it up to the Concert Hall, and we arrived just in time. Everyone else was gone in, and we missed the free drinks reception, but not to worry, the Guinness we had would not have been matched by the bottle of Heineken that were on offer :o)
I was pleasantly surprised by how intimate the setting was. I was expecting it to be in a big room with lots of people squeezed in, but instead it was a fairly small room with just around sixty people.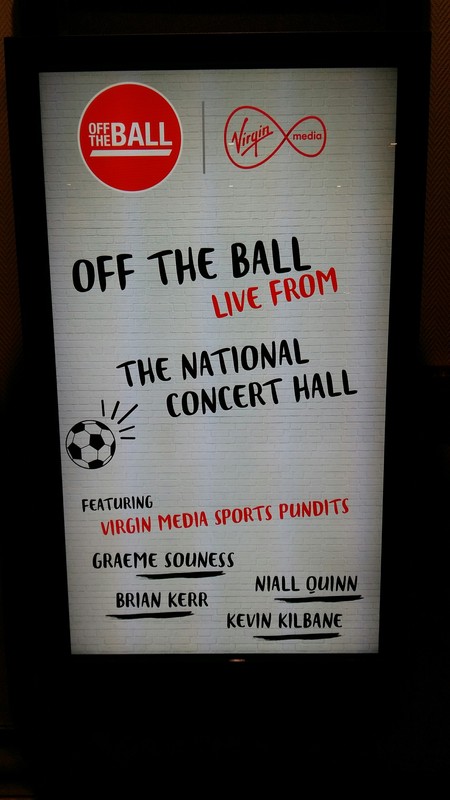 Declan Rice
I was expecting there to be lots of talk about the whole Declan Rice debacle, but we arrived a couple of minutes after the show had started and they were just finished talking about it, as we arrived. That was a real shame, as I was very interested to know what the guys thought about the whole situation.
I assumed that they would touch on it again later on, but they didn't revisit the subject during the 105 minute Q and A session.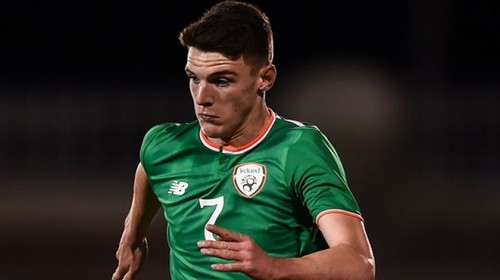 Banter between Souness and Kerr
The Scotsman and the Irishman have gotten to know each other quite well over the years as they have sit on panels together to discuss and dissect games. They are a bit chalk and cheese, while Kerr is a joker and a messer, Souness comes across very serious and almost school teacheresque at times.
There was good craic and banter between them last night mind you. Brian was slagging him off about getting private drivers to pick him up for the matchdays and that he never gets any special treatment like that. It was all tongue in cheek stuff, but the crowd and I got great mileage out of it.
Kilbane got in on the act as well saying that as soon as Souness arrives at Virgin Media studios for the football, he is asking about what food there is on offer. Kerr then chimes in slagging him about asking "for his fastpass for the airport"
It all started when presenter Joe Molloy asked "Who gets the best food? Who's the most demanding on the panel" and to be fair Graham holds his hand up straight away saying its him, but blames it on the fact that he's the elder statesman on the panel. It gets the evening off to a great start and everyone has a good laugh.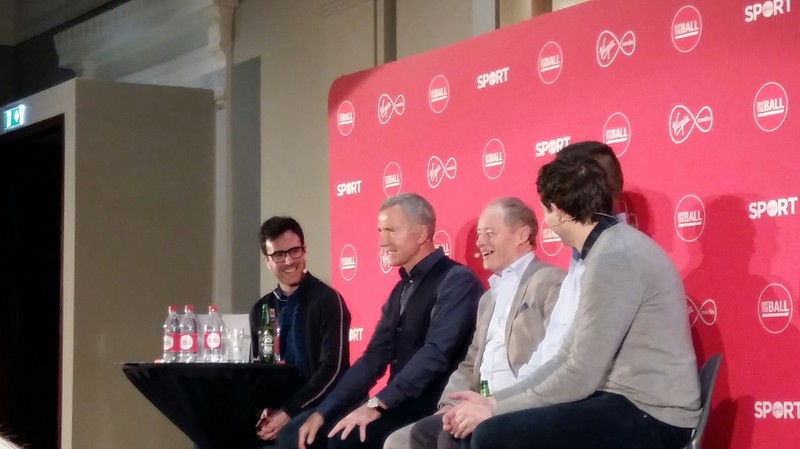 Liverpool vs Bayern Munich
The match was inevitably covered in detail, and I was very surprised to learn that the two massive European clubs have only met each other once before in the European Cup/Champions League and that was all the way back in April 1981 - I wasn't born until later that year! But one of our panelists was alive and kicking and he was very much part of those two games.
Bayern came to Anfield and came away with a hard fought 0-0 draw and entered the second leg of the European Cup semi-final as firm favorites and they thought they had done the hard work and that they were going through. Graham told a great story about Liverpool legend Bob Paisley from the night of the second leg.
The Germans were cocksure of themselves and on every seat in the 75,000 seater stadium, there was a little map explaining the shortest route to Paris, which is where the final was to be played that year. Bob got a copy and stuck it to the dressing room wall and said have a look at that before you head out on the pitch tonight lads. That gave them that little bit of extra motivation and they went out there and worked their socks off and came away with a 1-1 draw, which was enough to see them through on away goals and of course they went on to beat Real Madrid in the final and were crowned European Champions in 1981.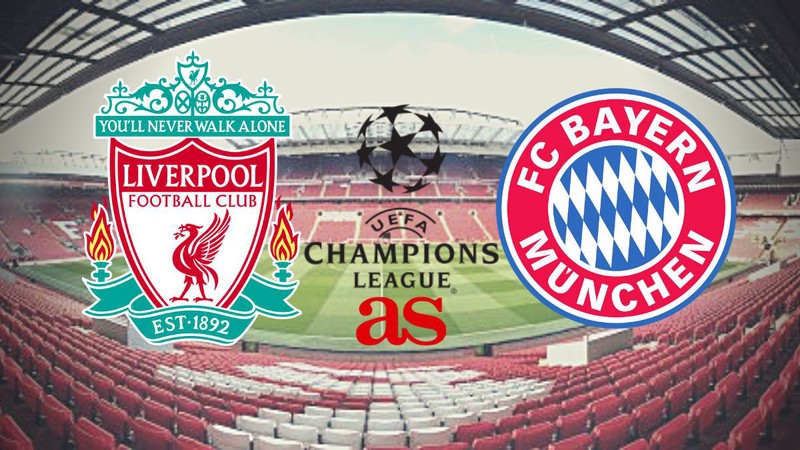 Interestingly tonight's game also ended in a 0-0 draw, and again Munich are probably now in the drivers seat, especially when you consider Liverpool's terrible away form in this year's competition. So, can they turn it around again, and will there be any road to Madrid maps adorning the seats of the Allianz Arena?
Souness and the flag at Galatasaray
Graham was asked about his famous flag wielding in Turkey during a derby match with local rivals Fenerbahce. He was the manager of Galatasaray at the time in April 1996 and they had just beaten their fierce rivals in the cup final. Souness had major heart surgery around eighteen months before taking the job in Turkey and he explained that when he was first signed by Galatasaray, their president made a remark questioning why they had signed a cripple, referring to Souness.
Naturally, he didn't appreciate the remark, and as he did so often on pitch, he marked his book, and thought I'll get you back some time. Fast forward to the cup final in 1996, and Graham is on the pitch celebrating with the goal scorer Dean Saunders and the rest of his team. A massive yellow and red flag is handed to them by supporters and they all take a turn waving it around, and eventually Graham gets his turn. When he motions to hand it to someone else, most of the players are making their way towards the trophy ceremony and that's when he clocks the Fenerbahce president in the stands, and says to himself, I know what I'll do.
Then, off he runs to the centre circle and after one, two, three attempts he finally gets the flag into the ground and turns to see his face, but the place has gone bonkers as all of the Fenerbahce fans go crazy and he almost causes a riot. Now he's thinking, oh shit, I better get down the tunnel fast as fans are trying to get onto the pitch now.
He said that he just got to the tunnel in time, or so he thought. Bang, he gets a punch in the back of the head, a fan had made his way into the tunnel, and a bit of a scuffle broke out. Graham reckons he got the better off him and I don't doubt him!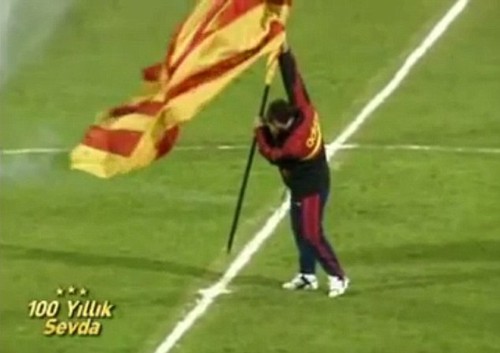 Losing the fire
Souness was also asked whether he would have any interest in stepping back into the managerial hotseat and he dismissed it, saying:
"I stopped enjoying it. The good times didn't compensate for the bad times."
He then went onto explain an encounter with Johhny Giles many years ago, shortly after he finished his last role as Newcastle United manager, and Giles said to him:
"You know after a year of not been involved, you'll ask yourself the question, why did I ever do that job? and he was 100% correct."
So Graham does not miss management at all and is happy to be a pundit and said that it was the right decision for himself and his family. He explained that players have a certain amount of fire in their belly and over the years that fire dwindles and you have less fire to give and when a top player becomes a manager that fire can burn out quickly sometimes, and believes it was the case for him.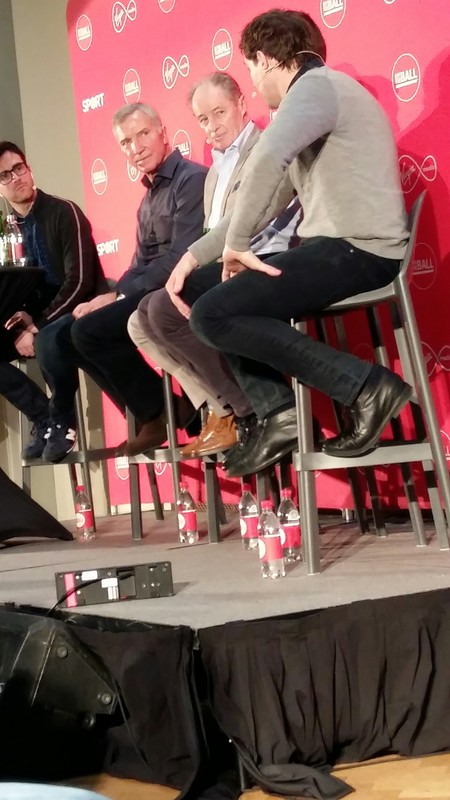 The same question was then put to our very own Brian Kerr and he went off on a great Brian Kerr meander that had everyone in stitches:
"I did'nt quite get to Benfica or Liverpool or Newcastle. It was more Crumlin United and Larkfield, The College of Technology and Bluebell and them famous teams that I represented so well."
He went on to tell us about his time at St Pat's where he amazingly got through 9 chairmen during his managerial term. Usually it's the other way around and a chairman gets through 9 managers! Good man Brian!
Kerr having a Goo
Brian was explaining about whether he'd go back into management and he came out with one of his classic lines, saying that he'd "Still have a Goo for it" and then wonders if Graham knows what he's on about and Graham shakes his head and Kerr proceeds to tell him about what having a Goo for something is!! Eventually Graham says finds the meaning to be "having a desire for?" and things move on.
Meeting the Big Man
This was the highlight for me. I got to have a great chat with Niall during the halftime interval and because of the legend he was for the Ireland football team over the years, I even let him take a photo with me.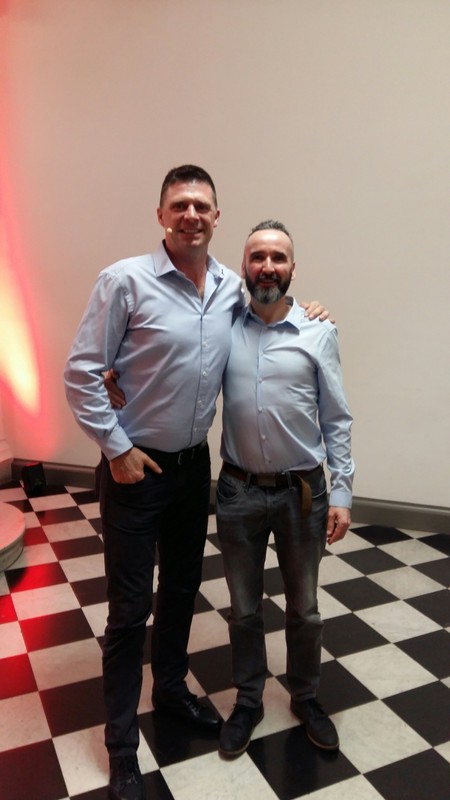 As you can see, he's a big unit! I must say though, he is an absolute gentleman, and you'd have to look very hard to find a nicer and more approachable man in football. He's pure salt of the earth and we had a few laughs before he was ushered back in for part 2 of the live broadcast.
League Of Ireland Shakeup
Niall has some great ideas about making changes to the structure of Irish football, with a view to keeping our young players in Ireland for longer and trying to make sure that they all get a solid education, so that they have something to fall back on, if the football dream doesn't work out, as is so often the case, with the droves of young lads who have gone over to England and Scotland over the years.
Traditionally, boys as young as 14 or 15 head across to the UK chasing a dream, and they sacrifice their education while pursuing the impossible dream.
Niall would prefer to see a system put in place which encourages the League of Ireland teams to retain these players until they are 18 or 19 and they have a good solid Leaving Cert behind them and then they can try the move to England and if things don't work out, they still have something to fall back on.
His plan would involve another entity taking over the running of the league and the FAI would no longer be responsible for doing that. He has spoken at length with Fran Gavin, the FAI director of competitions and is hopeful that they can come up with some sort of blueprint for helping to improve and nurture our home league and also protect the interests of our young players. It will be interesting to see what comes of it, but even if nothing comes of it, at least he is trying to facilitate change and with ex Dundalk manager Steven Kenny now in the U21 and underage hotseat and primed to replace Mick Mccarthy as senior manager in two years time, maybe it is not just a pipe dream and maybe, just maybe their might be a new dawn in Irish football.
Thanks as always for reading.
Peace Out.