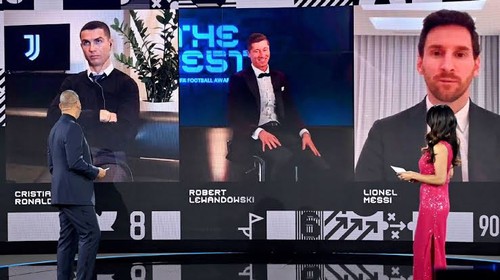 Juventus Portuguese superstar Cristiano Ronaldo is used to winning the big individual awards, In his trophy cabinet for personal awards, the Portuguese has five Ballon d'or, three UEFA Best Players in Europe and two FIFA The Best Player Awards but as he gets older he never seems to be getting more awards.

On Thursday evening, FIFA held their annual awards show but the prize went to Polish Robert Lewandowski but Ronaldo did not look exactly convinced, you could see the disappointment in the eyes of the Portuguese who did not exactly show joy on Lewandowski's achievement.
The images of Ronaldo's reaction subsequently went viral on the internet, with many people criticizing the Portuguese for being selfish. Ronaldo had a good 19/20 season for Juventus, where he together with the club won the Italian championship and scored 37 goals in 46 matches.
Lewandowski also had an excellent season with Bayern Munich, where the club secured The Treble by winning both the Bundesliga, the Champions League, Lewandowski scored an incredible 55 goals in 47 games.