Manchester United lost to Juventus on the third matchday of Group H of the Champions League 2018/2019. Paulo Dybala's single goal stopped the Red Devils in his home.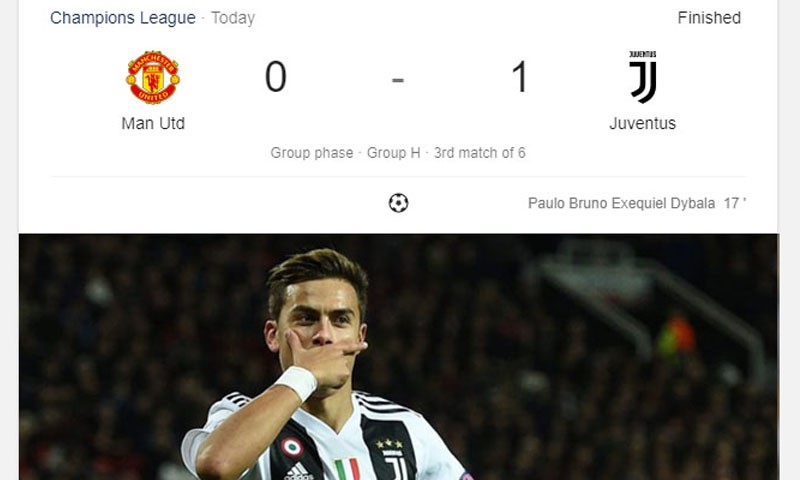 In a match that was held at Old Trafford Stadium, Manchester, England, Wednesday (10/24/2018), United left behind since the first round. Paulo Dybala's goal in the 17th minute lasted until the break.
In the second round. United failed to equalize despite being able to dominate the game. 0-1 defeat of Juventus was inevitable for the host.
These results keep United still in second place in Group H with four points, while Juventus are more firmly on top of the group with perfect points in three matches.
The Way of the Match:
In the first round, MU left Juventus. Paulo Dybala's goal in the 17th minute led the visitors to lead 1-0 until halftime.
In the second half, United were able to press Juventus. A number of dangerous crossings have been released, but it can still be driven away by Juventus who are very disciplined to guard their territory.
Juventus themselves are having a difficult counter-attack like in the first round. MU's high defensive line made the Old Lady's attack easily broken.
United's best chance came in the 74th minute. A left foot kick was released by Paul Pogba from outside the penalty box. But the ball just hit the bar.
In the 89th minute, United got the chance again. This time through the trial of Anthony Martial, where placing his shots from outside the penalty box can still be secured by Juventus goalkeeper Wojciech Szczesny.
The opportunity for Juventus also came a minute later. Through Miralem Pjanic's corner kick, defender Leonardo Bonucci could head the ball, but his effort did not meet the target.
In three extra minutes of time, no additional goals were created. Manchester United lost 1-0 to Juventus in the Champions League third matchday.
Player composition:
Manchester United: De Gea, Young, Lindelof, Smalling, Shaw, Mata, Matic, Pogba, Rashford, Lukaku, Martial
Juventus: Szczesny, Cancelo (Costa 87'), Bonucci, Chiellini, Alex Sandro; Bentancur, Pjanic, Matuidi; Cuadrado (Barzagli 81'), Dybala (Bernardeschi 78'), Ronaldo