Good night, with me @acerakkespc;
This time there was the most ridiculous action coming from Milad Mohammadi, a player from the Iran national team. What is the action, please refer to the presentation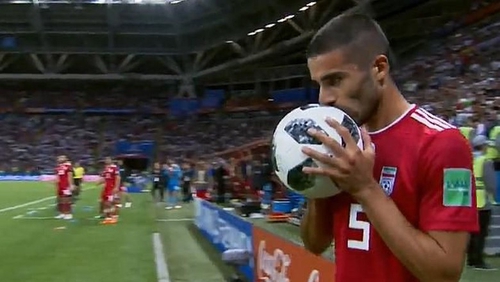 There is one interesting thing that happened when the Iran national team faced Spain in the second match of the Group B 2018 World Cup qualifier. The interesting event involved Iran players was Milad Mohammadi, which became a lot of spotlight at that time. The strange throw-in was done in the 93rd minute, when the Iran national team conceded one goal by Diego Costa.
Mohammadi, carrying the ball on the edge of the field, then kissed the ball, pointed it up with his finger, twirled the ball with his hand, looked up again, twirled the ball again, then pressed the ball to his forehead.
Russian club defender Akhmat Grozny then ran. If players usually run as a square to be able to do a good throw, Mohammadi displays a different thing.
Instead of running, he actually did one salto motion and when he got up, he failed to throw the ball. He returned to his original place, and prepared to throw the ball in the "right" way.
The referee who led the Iran versus Spain fight, Andres Cunha, had reacted with Mohammadi's actions. He warned the substitute. Because of that strange action, the game's active time is wasted around 30 seconds.
After the match, memes related to Mohammadi's awkward throw were scattered in cyberspace. The media also wrote Mohammadi's throw-in as the craziest, most bizarre, in the history of the World Cup.
Some fans who watched at the stadium called the silly event the best moment in World Cup history. While others considered the action was intended to make the match fresh because they thought the action was very funny.
Below are some of the soccer lovers who uploaded it referring to the strange throw-in style of Iran national team defender Milad Mohammadi.
there is no element of harassment, this is just entertainment.
Thank you for visiting my blog, successful greetings for you all !