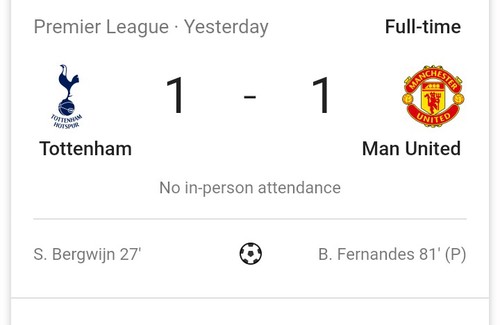 Yesterday my beloved team Manchester United found it difficult to make it pass Tottenham Hotspurs. The match started 8:15pm, although instructions were passed on from government restricting viewing centers not to show any football matches yet but that doesn't really work. I went to a view center close to my house and everywhere was filled up like nothing was announced...hahaha! One thing about sport and especially football fans, we love the game even to death. Your favorite team can't be on the pitch playing and you will be comfortable at home.
The match yesterday was interesting, the desire for both team to press for a winner makes it spicy as both teams put up a strong mentality defensively and offensively. The first goal from Tottenham scored in the first half many believed David Degea could have done better to save it but it flip over his shoulder into the net. De Gea has found himself in so many erroneous mistakes nowadays. Thanks to Paul Pogba who came in in the second half and made a very good impact. The penalty he won was a brilliant individual performance.
Tottenham sat deep and open up on counter attacks and it worked well for them, a typical Mourinho's style. Man United enjoyed more possession of the ball but couldn't convert most of the chances created. Both teams had good chances. Hugo Lloris was outstanding for me because he kept Tottenham in the game for long.
DID YOU WATCH YESTERDAY MATCH?
(Image source)google.com