The Chinese Football Association (CFA) and the All Nepal Football Association (ANFA) have signed a four-year deal for the development of Neplease Football and mutual cooperation in sport.
Acting Chairman of the Chinese Football Association, Du Zhaocai, and All Nepal Football Association president Karma Chhiring Sherpa has signed the agreement on Thursday. Anfa President Sherpa said that ANFA and CFA will cooperation in the development of the national team, cooperation in infrastructure development and technological development.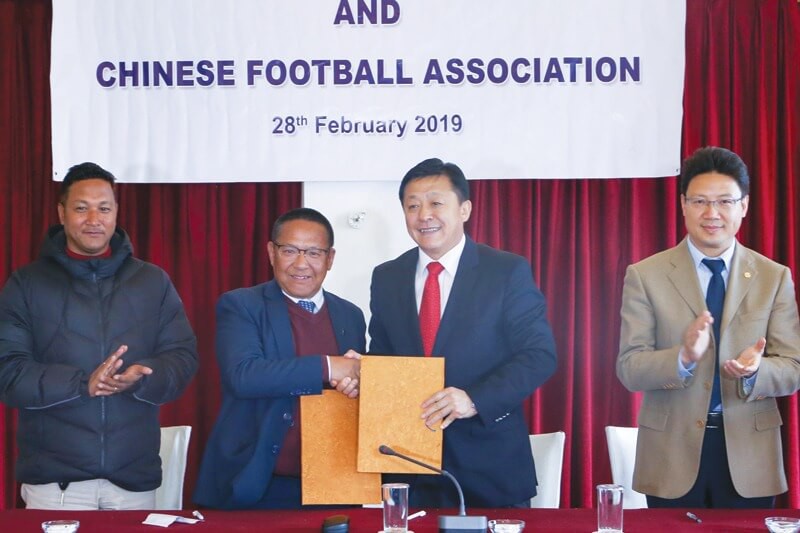 According to the agreement, now Nepal's national women and men and teams of age groups will play friendly and practice games in China. Similarly, players of national women, men and ages of China will come and practice in Nepal. Acting president of CFA Mr Zhaocai said that 'construction of physical infrastructure in Nepal also discussed.' He added 'Nepal is nearest to Tibet and so both teams can also play friendly games regularly. There will be a more mutual discussion about the construction of other physical infrastructure. Nepal and China will also have a continuous exchange of mutual benefits of sports due to the country under Belt and Road Initiative.'
ANFA president Karma chhiring Sherpa said that this agreement would prove to be tiring in Nepalese football development. ANFA president Sherpa claimed that Chinese teams from the provinces and the third division will participate in Neplease leagues from Next year. Du Zhaocai also said that mutual cooperation will start with the exchange of teams. The CFA officials along with the acting Chairman Du Zhaocai came to Nepal on Thursday to discuss cooperation in the development of Nepali football and mutual benefit. Chinese officials team will return home on Friday. Sherpa said that the official team of ANFA will also visit China very soon.