The Netherlands complete a magnificent comeback to secure a draw thanks to late goals from Promes and Djik. It was Germany who leading by 2-0 until the 84th minute but two late goals from Dutch eliminated France from top of the group and Dutch secured their place in final four of Nations League. After this result, all team decided who will play for a trophy in Portugal on June 2019. Instead of France none of other world cup semi-finalists qualifies for final four. We saw great comebacks in this tournament so far. After all England, Portugal, Switzerland and Netherlands advanced to final four of UNL. Nations League group stage ended in dramatic fashion.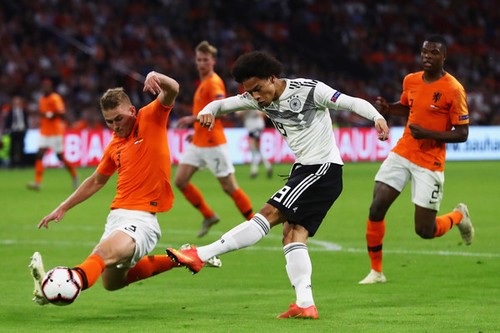 Werner gives Germany a brilliant lead and Sane double it wonderfully within 20 minutes but in last 6 minutes Dutch take advantage of defenders mistakes and were able to level the score. It was a completely wonderful comeback. Dutch is the team to beat at the moment, De Jong is the hottest property. Being German fan I am not happy with the result but stratified because France didn't qualify. The Netherlands didn't play really well, the especially right side was not good. Germany played pretty good and scored 2 early goals after that Low made changes unnecessarily and German was like fall asleep near the end. This gave the Dutch the opportunity to come back and they did.
Another disappointing game from Germany. Being a German fan it's hard to believe yesterday result. As we saw defence was completely lost. Well, that is understandable Low is doing some experiments with the line-up but to return Kimmich in midfield was a crime. He is best RB by far and why not use him at his best position. Yesterday, Low actually played with just three defenders, three CBs. No strict RB, no strict LB. That was reflected in the game, the defence was terrible. Germany has so many young talented midfielders and they are not used. The only attack was great yesterday until Low made a substitute. Timo Werner reminds me why he is called next Klinsmann.
Die Mannschaft!