Juventus beat Cagliari and are 6 points clear in Serie A. Paulo Dybala scored just after 44 seconds but Juventus were in struggle whole time against brave Cagliari. With this win, Juventus have 31 points from 10 games, which is the best start ever for the club history.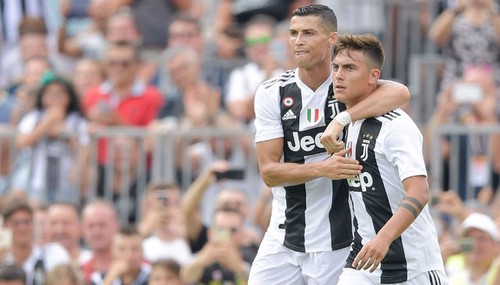 Dybala hit a right footed shot from the edge of penalty area to give a perfect start for Bianconeri within minutes of a game start but Cagliari fought hard, they fought back bravely and they levelled the score in the 36th minute when Juve failed to clear the ball properly and Pedro netted low strike into the bottom corner. But just after 2 minutes of they levelled, Bradaric scored own goal and gifted a lead to Juventus. Later in an 87th-minute unselfish pass from Ronaldo to Cuadrado sealed the match. Juve made a counter attack and there were Ronaldo and Cuadrado with the ball, both of them could score that goal but Ronaldo gave it to Cuadrado unselfishly and Cuadrado hit the first touch to the net and Juve won the match by 3-1.
Juve wasn't in their best form but still, they managed to win. Dybala, Ronaldo, Cuadrado played their part wonderfully. Dybala gave Cagliari all sort of trouble while Ronaldo played his part well and helped out the team wonderfully. Still, I believe they could do more attacks. Juve is a very defensive team. Once they score they used to tight their defence but with the players like Ronaldo, Dybala, Cuadrado, Pjanic they could do well in counters also. But they won and that's it. Cagliari played very well and I hearty respect their play. In the end Juve won and Cagliari lost.