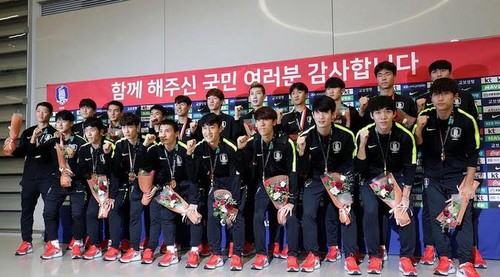 The South Korea U-23 national team returned to their home country with a smiling smile and cheerful face after successfully meeting the target of defending the title and winning gold at the 2018 Asian Games.
The Taeguk Warriors group arrived at Incheon International Airport from Jakarta, on Monday (3/9/2018), with a gold medal attached.
Hundreds of supporters are waiting for coach Kim Hak-bum's team. They cheered on the favorite team, which managed to record a new history, which is back to back in the Asian Games men's soccer game.
Another achievement, the gold medal at the 2018 Asian Games has made South Korea the most champion in the Asian Games men's soccer competition, with five wins.
Supporters welcomed the arrival of the South Korean U-23 national team warmly. They bring flowers of joy.
A different situation occurs when the South Korean national team playing in the 2018 World Cup arrives in South Korea after completing duties in Russia.
Although able to overthrow the defending champion, Germany, in the group stage, South Korea failed to advance to the knockout phase. That disappointed fans.
Instead of being warmly welcomed, such as by giving interest, a group of supporters at Incheon Airport actually rewarded Son Heung-min et al. with throw pillows and eggs.
In South Korean culture, throwing eggs is considered an insult. Luckily, at that time no player was hit by the throw.
However, the majority of players who struggled in the 2018 World Cup, held photo sessions upon arrival at Incheon Airport, with grim faces and bowed heads.
Some players filed apologies directly to the public for failing to meet expectations at the 2018 World Cup, including Son, who made a different history at the 2018 Asian Games.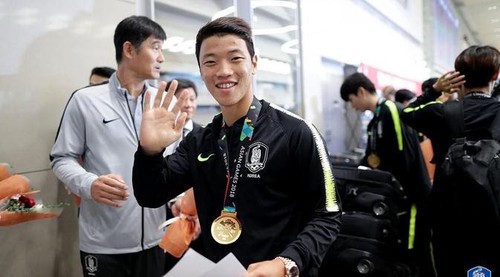 Son Heung-min leads the South Korean National Team U-23 to win the gold medal in the 2018 Asian Games. No doubt, they held a joint photo session at Incheon Airport, before the team was disbanded, with a bright face and raised head.
They also fulfilled requests for photos together from fans lightly and enjoyed the warm welcome given to them.
"We got good results because of the players' hard work. We also want to thank the supporters who supported us," Kim Hak-bum, South Korea U-23 national team coach was quoted as saying by Yonhap on Monday (3/9/2018).
Even though they have been returned to their respective clubs upon their arrival in Incheon, eight players of the 2018 Asian Games alumni cannot rest too long. The reason is, they have received a call to join the senior national team for an international trial match.
The eight players are Son Heung-min, Hwang Ui-jo, Jo Hyeon-woo, Hwang Hee-chan, Lee Seung-woo, Kim Min-jae Hwang In-beom, and Kim Moon-hwan.
They entered the senior national team squad under the direction of a new coach, Paulo Bento, for testing against Costa Rica, Friday (7/9/2018) and Chile four days later.