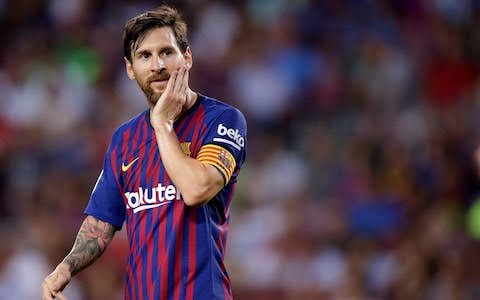 Lionel Messi realized that he would not be able to play forever for Barcelona. The Argentine star implicitly stated that Barca began preparing for a trip without him.
Messi is currently 31 years old, a veteran of the highest level of professional soccer players, especially on the front lines. Messi certainly still can play brilliant as usual, but he realizes that his time as a player has diminished.
Messi also asked Barca not to panic when he decided to stop playing for the Catalan club. Messi had previously stated that he wanted to return to Argentina, playing for Newell's Old Boys before retiring. But he also did not close the pension opportunity in Barca.
Messi doesn't know when he will leave Barcelona later. He is currently under contract at the club until June 2021. He has no clear plan yet whether to extend the contract or leave the club if his contract runs out.
But for sure, he will go later. If that happens, Messi asks Barca to remain calm. He believes Barca will believe in academy-educated players and will buy quality players in their place.
"Barca can be calm when I go later because the way it works is that I feel it is right. Barca must continue to believe in the La Masia academy graduates, taking them to the first team. Besides that important players will also be brought in as has happened throughout the club's history. "Messi said to Catalunya Radio.

Messi's intention now is to spend his contract at Barca. After the duration of the contract is complete, Messi will decide what steps he will take next.
He doesn't know yet whether he will continue to stay at Barca after June 2021. Messi wants to talk to the club first if the time has arrived.
"I still want to complete my current contract first, after that we will see whether I will continue in Barca or not. I will talk to the club to determine whether I will continue playing here."
"This contract issue is not a problem, and I have never had a contract problem throughout my career. This situation does not worry me at all."