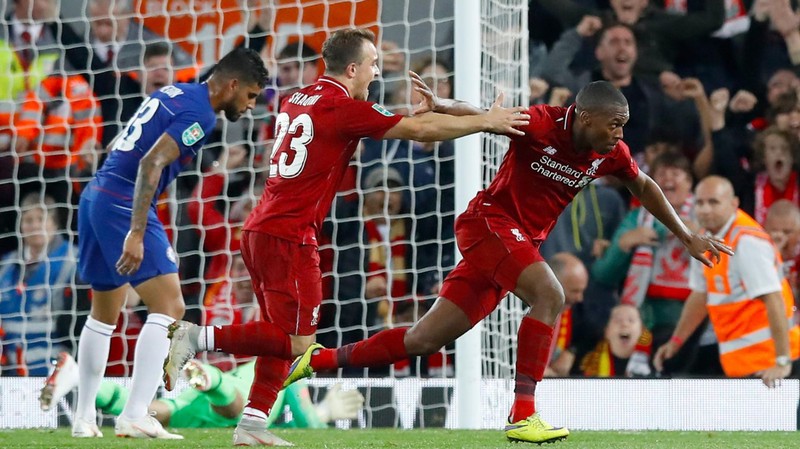 For 12 days he put the same as for the whole previous season.

Liverpool 86 minutes unsuccessfully struggled with Chelsea. Kepa created an unreal save, Luis and Rüdiger pulled from an empty net, Shaqiri missed an ideal position. Everything inevitably rolled to the first defeat in the Premier League and the second for a week slap from Sarri.

In the 86th minute Klopp made the second substitution match. At first, the German surprised that he exchanged Salah for the fussy Shaqiri, then 20-30 minutes late with the exit of Sturridge. It seemed that Daniel banal enough time, but after a few moments he screwed into the nine former team.
About Sturridge forgot almost everything. He cheerfully started at Anfield, but just as quickly injured. Since 2013 the glass forward has received 15 damages. Daniel got everything that could be injured: the hip joint, calves, back, knee, hip, ankle, groin and once even seriously caught cold.

"The Reds" poured out for the striker 15 million euros and did not believe that in five years he will miss 99 matches. The hardest of all, Sturridge suffered because of problems with the hip - minus 212 working days. In total, with damage, Daniel was lying on the cot for 567 days.

In 2014, Sturridge signed a crazy contract for five years - the fans suffered and believed the money flew away to nowhere. The reason was huge: Liverpool weekly writes Danny a check for 135 thousand euros. This is more than Mane and Robertson combined, more than Matip, Wijnaldum and Henderson. In terms of wealth in Liverpool, the Englishman is only ahead of Van Dijk (168,000 per week), Firmino (202,000) and Salah (225,000).
With each new injury, Sturridge was imprinted deeper into the bench and rolled into depression. It's one thing to wait for the restoration, the other is to watch your space in the attack be concreted by an invulnerable trio from. Shaqiri was also brought, who looked like the first candidate for substitution of one of the monsters.
From January to August, Danny scored four goals - all in unwanted friendly matches. He went to the Premier League six times (twice from the first minutes), but did not even produce an assist.

99 reasons out of 100 shouted that Sturridge will collect dust before winter, and if it does not work out to sell it, before summer. But he suddenly returned: Dan is not injured from December 2017, and now he has gotten into the form. Two of the last three matches the Englishman started at the base and surprised by the goals of PSG and Chelsea. The third ball in 12 days he put on Stamford Bridge, where he spent on the field just eight minutes, taking into account the compensated time.
If Klopp really reanimated Sturridge, then Pep has huge problems. To count on the weariness of Mo, Firmino and Mane is now meaningless, because Danny is anymore not a mummy.