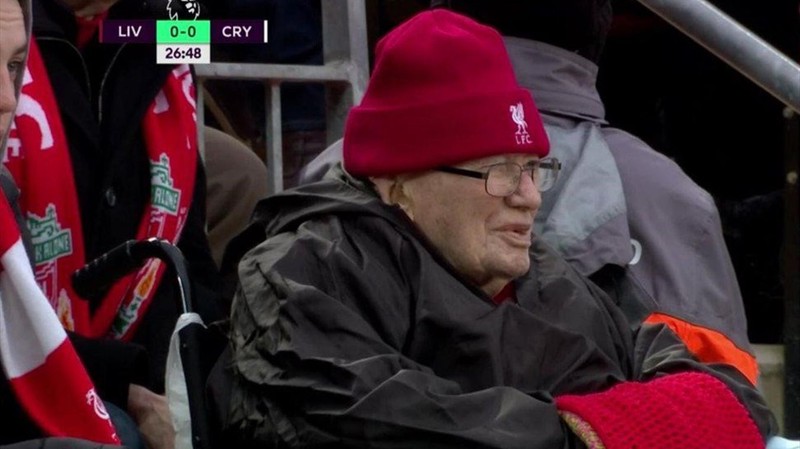 In social networks, the #10yearschallenge hashtag is gaining popularity, where people post photos of 10 years ago. Liverpool has a fan who could easily have won this challenge and by 96 years - that's how much he worries about the Reds. He hardly uses the Internet at 104, but the mersisiders do not forget about it.

On January 25, Brendan Sheridan will be as old as people sometimes live for two. But this holiday was special for him. From Liverpool sent a very nice gift. A representative of the club came to The Tithebarn care home and brought a personal jersey, cake, tickets for the match with Crystal Palace and a letter from Jürgen Klopp: "Thank you for the continued support of Liverpool. You'll never Walk Alone".

Bernard first came to Anfield at the age of eight, but this time he admitted that he was particularly excited. During the match, the grandfather snatched the camera a dozen times, because of his condition was scary. For some reason, Liverpool missed first, then took the lead, then missed again, well, you know. The emotional outbursts exactly rejuvenated Sheridan's soul, and most importantly, Liverpool won.

Before the match, Brendan said that the cherry on the gift cake would be the victory of the Reds, so the goals of Salah, Mane and Firmino became the wedding of a beautiful story. Sheridan, who has 7 grandchildren and 14 great-grandchildren, one of whom flew in on the birthday of his grandfather from Canada, was definitely pleased. "I am proud to be a Liverpool fan, no matter what," - the birthday man told the BBC.

For 104 years, Sheridan has definitely seen a lot of Liverpool matches, but it's especially reverent not the "Miracle of Istanbul", but the FA Cup final against Wolverhampton in 1952. One of the two unanswered balls into the gates of the "wolves" was then scored by Bob Paisley. And before the match with Crystal Palace at Anfield, they honored him too. The legends of Liverpool are no longer alive - on January 23, it could have turned 100 years old.

"He is always up to date on Liverpool matches and always discusses them with his son," - says managing director The Tithebarn Linda Johnson. "He is a wonderful gentleman, and we are glad that the club remembered him on such a day."
And most importantly, it's not some kind of goals and points, but the memory of the people who deserve it.