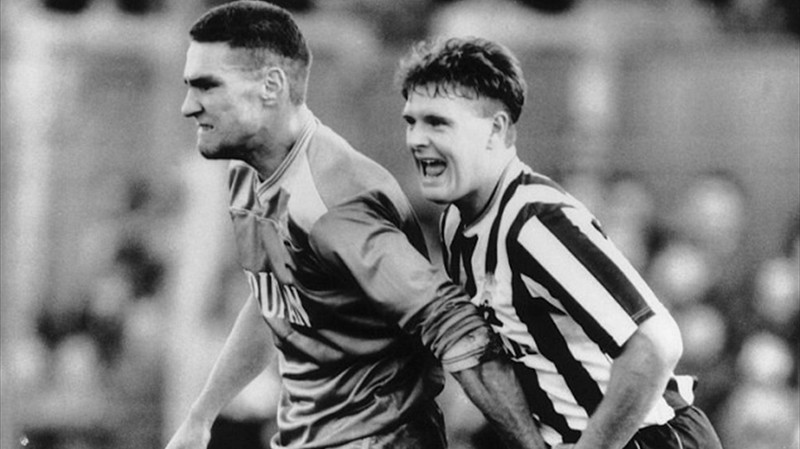 Since then it's been 30 years.

In 1988, the match between Newcastle and Wimbledon almost turned into a tragedy: Vinnie Jones caught Paul Gascoigne's crotch and almost sent to the hospital. This moment had time to remove the photographer, and the episode became legendary. And now, 30 years later, former footballers met and discussed the same capture.

"I've never done this before and did not repeat after. Everything turned out spontaneously, it was clearly not planned. One of my former coaches said "just grab them by the eggs if they get too close" and it's probably stuck in my head," Vinnie Jones said.
"People are still asking if it hurt me. Look at my face, at the swollen veins on my neck, when he grabbed me. I turned to the judge, but instead I just squealed: "Help me, man!"


Then before the match the coach just turned to me and said: "Good luck, son." But I did not understand the problem. And then Jones approached me in the tunnel and said: "Today only you and me, fat man, I do not play football - and you will not." And then he once again came up to me: "Hey, fat man, forgot to say: I go to the corner, so wait for me here." I was so surprised that I did not think of anything better than: "Everything's fine, I'm not going anywhere." This is the only match when I dreamed that everything would end sooner," Gascoigne said.
The lives of both players developed in direct proportion: in football, Jones did not become a superstar, but after the end of his career he earned popularity as an actor and TV host. And Gazza had a brilliant career, but in ordinary life he did not turn out so cool.

Because of the constant problems with alcohol Gascoigne was placed on the list of celebrities who, perhaps, will die in 2018.