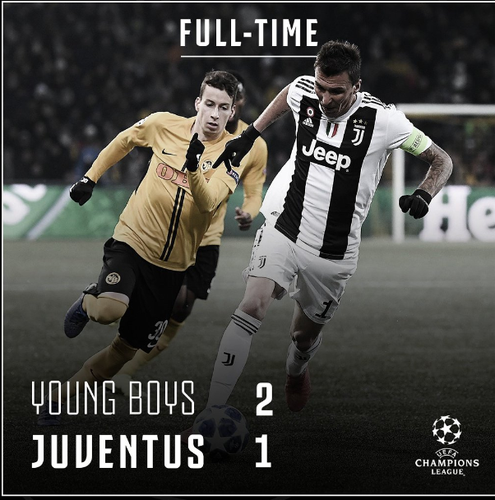 The old lady was playing with their strongest line up tonight in Bern but unfortunately they suffered a shocking defeat. Luckily, this did not reflect in their place on the table, so Juventus will receive the first draw for the eighth finals of the Champions League.
The guests furiously climbed into the match, and in the center of attention was Cristiano Ronaldo who had three phenomenal chances. However, the home team managed to get some sort of rescue because Ronaldo did not set up a match fix for the evening duel. The Old Lady blew up after half an hour after Alex Sandro made a big mistake when he dragged Young Boys player Ngamaleu down as he looked to break free in the penalty area . Precision from the white spot was Hoaurau who struck neatly to make it 1-0 for the team and a great celebration from the fans of the Swiss team.
In the second half, Juve tried to settle and save an unexpected defeat but failed. After a great contender, Young Boys made it a 2-0 lead in the 68th minute, and Hoarau shook the Italian giant again. However, Juve managed to reduced the deficit to 2-1 goal in the final, but that goal will be the final goal for the guest as they lost unexpectedly to Young Berns.