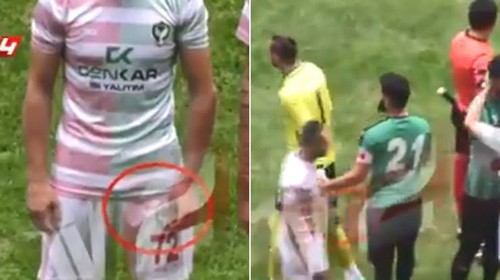 A PLAYER OF THE CLUB AMED SK (TURKEY DIVISION TWO), MANSUR CALAR GOT A EXTREMELY SEVERE PENALTY AFTER A KNIFE ATTACK ON OPPONENTS IN THE RECENT MATCH AGAINST SAKARYASPOR.
Turkish football League was shocked with a big scandal in the Second Division in the match between Amed Sk and Sakaryaspor. According to the recorded image, when the two players were scrambling, Mansur Calar had "brought a sharp object" (believed to be a razor) into the pitch. Later, the player quickly approached and used a knife to slash the butt and neck of Captain Ferhat Yazgan on the side of Sakaryaspor. Fans were really frightened when they saw the hurtful images of Ferhat Yazgan's neck posted on social networks later.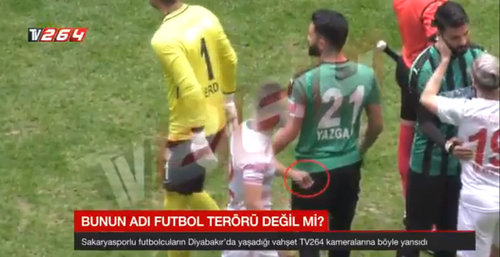 After the match ended, player Ferhat Yazgan announced the incident to the police to investigate the incident. However, the Turkish Football Federation quickly reacted to the incident to resolve the case. Today, the Turkish Football Federation has decided to hand over a lifetime ban match against Mansur Calar. In addition, the player will be fined 25,000 lira (£ 3,500). Besides, Amed SK club is also fined to play their next two home matches behind closed doors. And also, two players of Amed SK, Muhlis Ystemi, is banned from playing 5 matches, with (£420 penalty), Muhammed Ali Ozdemir is banned for 4 games (£ 336) for attacking the opponent in the incident.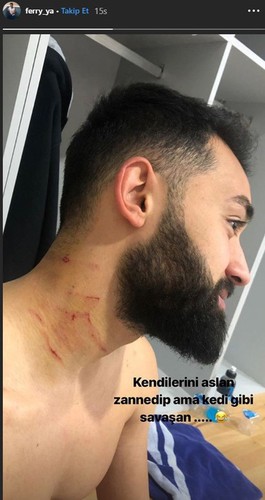 Meanwhile, a player from Sakaryaspor's Serkan Odabasoglu has also been banned from playing five matches and fined £420 for similar behavior.