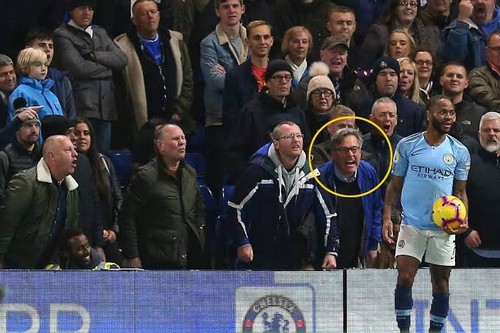 Chelsea has temporarily forbidden four supporters to attend matches. London's top club is awaiting further investigation into accusations about racist behavior of supporters across Manchester City striker Raheem Sterling.
Sterling was to be racistly treated by a number of fans of the home team on Saturday during the top match Chelsea-City. On images you can see that fans of Chelsea shout in the direction of Sterling when he picks up a ball. ''Our investigations into this issue are in full swing, we fully support the police investigation and all the information we collect is passed on to the police," Chelsea reports in a statement.
"Chelsea finds all forms of discriminatory behavior abhorrent and if there is evidence of cardholders who behave racistly, the club will issue strict sanctions, including a stadium ban."
Sterling responded to the incident on Sunday morning via Instagram . "Normally I am not someone who talks a lot, but now we have reached a point where I have to make myself heard.You can see from the incident against Chelsea that I just have to laugh, because I did not expect anything else", wrote the English international.
MEDIA FEED RACISM AND BAD BEHAVIOR
The 24-year-old Sterling also took the opportunity to get out to British media, who reported that both he and his young teammate Phil Foden bought an expensive home for his mother, but in the case of Sterling much more unpacked.
"Watch the newspapers announce their message to the young dark player and to the young white player, which I find unacceptable, because both players have acted innocently and did not do anything wrong, but the dark player is put in a bad light. ensure that racism and bad behavior are nourished, "he reported.
Chelsea-City ended by goals from N'Golo Kanté and David Luiz in 2-0, which meant that Manchester City has now suffered their first ever defeat of the season. The 'Citizens' lost the leading position in the Premier League to Liverpool.