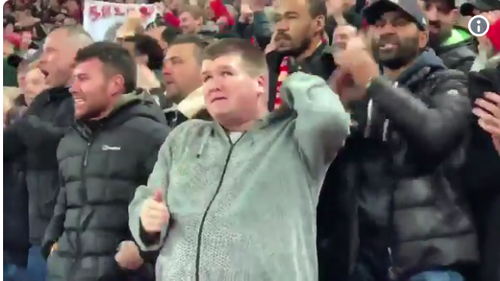 LOVE FOR LIVERPOOL IS STRONGER THAN ANYTHING
Liverpool's players were in the knockout phase of the Champions League after they defeated Napoli with a minimum of 1: 0 in front of their fans at Anfield. Victory took last year's finalist into the knockout phase, and the Red's hero again was Mohamed Salah who scored the only goal of the match to send them to to the Round of 16. The Atmosphere at Anfield once again was unbelievable and Liverpool fans with their ovations until the last second had a team against Napoli who had several wins in the finish.

At the center of attention after the game, one of Liverpool fans became a hit on social networks and It's about a blind Reds fan who does not miss the match of his beloved club at Anfield although he does not have the ability to see what's happening on the field.
With him there are friends who try to convince him what is actually happening, and with the help of hearing, he manages to enjoy some part of the game. This fan is a proof that football is more than a game, and when you see how he celebrated last night's goal,you will surely be moved and feel how football means to some fans even if they can't see what's really happening.