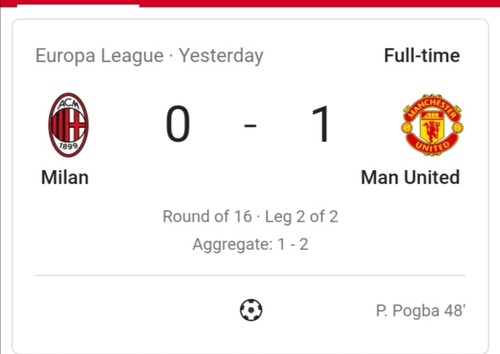 It was time for a thrill of a return match when Milan took on Manchester United on Thursday night at the San Siro in Milan. The first match at Old Trafford ended 1-1, after Simon Kjær equalized in overtime.
From the start of the match, United sat on the game. It was clear that the awareness that they should score on the road influenced the Red Devils' approach to the match. Both Bruno Fernandes and Daniel James were close to coming up with chances, but the final sharpness was lacking. However, AC Milan got the game hot as time went on, and the Italian team got better into the match.
The first half, however, was marked by a lot of blur and lack of the last margins. That meant both teams went into the locker room without the net masks fluttering.
However, it should not take more than three minutes of the second half before the score was opened. Here it was Paul Pogba, who had been substituted into the break, who received the ball close to goal, and here United's French midfield star could send the visitors on a winning course.
The score meant that Milan were now forced onto the pitch, but United made it very difficult for the home team. They could not muster a sufficient pressure and thus create the life-giving chances in the fight. Therefore, the Milanese threw Zlatan Ibrahimovic on the field after 65 minutes, in the hope that the great Swede could make the difference.
Ten minutes later, it was also Zlatan who was close to equalizing the showdown. The striker won his duel against Luke Shaw, but Dean Henderson in United's goal resisted with a distinguished save.
After this, United Milan withstood the pressure, and therefore the match ended with a 1-0 victory for the Reds from Manchester.
With the victory, Manchester United moves on to the Europa League quarter-finals. The draw for these will take place on Friday 19 March.