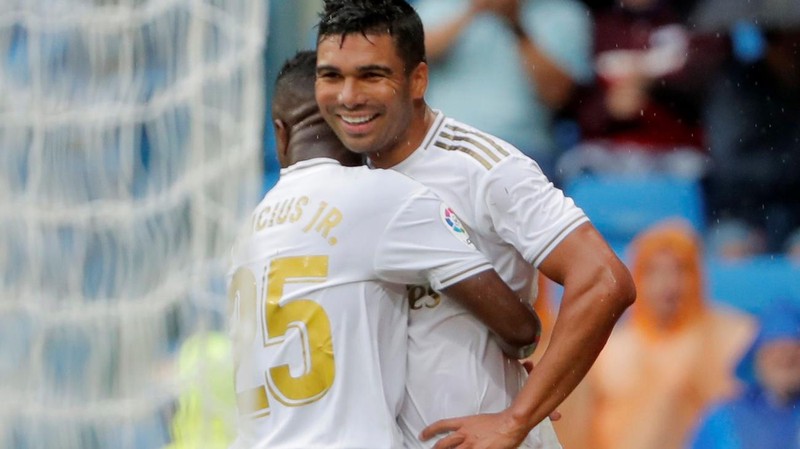 After Atletico Madrid's surprising defeat to Levante, Real Madrid could play closer to their rivals on Saturday night and thus be only three points behind the city rivals. However, it required an away win and Real Valladolid.
From the first whistle, Real Madrid sat on the game and came up with a couple of good opportunities. However, it was only after 23 minutes of play that the favorites from Madrid were close to getting ahead. Here they thought they had taken the lead when Mariano sent the ball into the net, but quite correctly the goal was canceled out for offside. Exactly the same thing happened after half an hour, when Mariano again sent the ball into the net. But the striker timed his run incorrectly and was just offside. Thus, the score remained 0-0.
Shortly before the break, Casemiro should have made it 1-0 for the visitors, as he got a completely free chance close to goal, but the Brazilian midfielder headed the ball over goal to the great annoyance of himself. Instead, Zinedine Zidane's troops had to content themselves with going to the break with 0-0 on the scoreboard.
After the break, it was a little surprising Valladolid started best. And ten minutes into the second half, the home team was close to taking the lead with 1-0, when Ferland Mendy somewhat clumsily got a cracked pass in front of his own goal, where Fabián Orellana slammed the ball. However, Thibaut Coutrois decided he fancied doing his job and cleared it with an assured header.
However, as the game clocked 65 minutes, the redemption came for Real Madrid. The second time was a stroke of luck for Casemiro, who headed the ball into the net and put the visitors ahead 1-0. And then the Spanish big club was on a winning course.
From here, Real Madrid held on and the big chances did not materialize at both ends. Thus, the Madrid could take from Valladolid with a narrow 1-0 victory in the bag. And what even better for Zidane and co. is that the team is now just three points behind rivals Atletico Madrid in the battle for the Spanish championship.