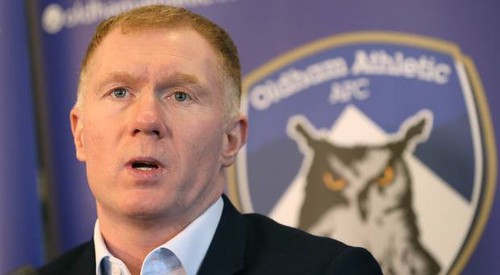 Manchester United legend Paul Scholes is officially appointed as the new manager of Oldham Athletic, a club playing in the League Two, the fourth tier competition under the Premier League, the Championship and the League One.
Paul Scholes said this is the right time for him to start his coaching career after being appointed as Oldham's manager. This is Scholes's first job at the managerial level.
The 44-year-old has signed an 18-month contract with Oldham Athletic.
Scholes actually has a conflict of interest because he owns 10% share of Salford City, however, the FA gives Scholes approval for his new job at Oldham because he has resigned as a director of Salford City. He is now just an ordinary shareholder of Salford City.
Scholes said that he is happy with his new job even though it's just a League Two club. He claims that he has prepared himself by watching Oldham Athletic matches and thinks that the club could have won many matches.
Scholes said that Oldham have a good squad and it's possible for them to be promoted to the League One. He said that Oldham would be ready for promotion next season.
Scholes doesn't even hesitate to use his network at Manchester United to help him to reach his target. He claims that he has talked with his former United teammate Nicky Butt who is currently head of the Manchester United academy to borrow young players for Oldham.
Oldham is currently ranked 14th, so Scholes said it is difficult to get promotion this season, but he is optimistic the club could get a promotion by next season.
Scholes actually had been interviewed to get this job in October 2017, but Oldham's management didn't want him at the time. Let's see how Oldham will perform under Scholes. Mourinho would love to see him fail, tough.