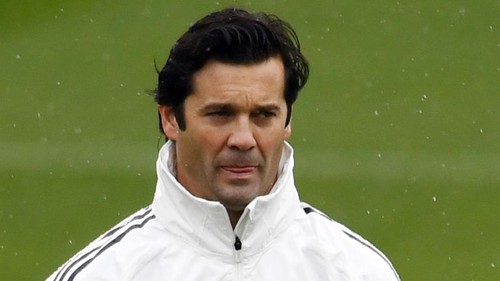 Real Madrid's victory over Melilla in the Copa del Rey match (1/11) may allow Santiago Solari to continue handle the senior team. Currently, the 42-year-old is still a temporary coach of Real Madrid as a substitute for Julen Lopetegui who was sacked a day after Madrid lost 1-5 against Barcelona.
Even though he is a temporary coach, it is quite possible that Solari will become a Real Madrid coach. As a coach, Solari is below Lopetegui who once coached Porto or the Spanish national team. But as a player, the Argentine coach is a former Madrid player and has experience to handle Real Madrid junior team.
Solari which was part of the first Los Galacticos is considered to be able to handle Real Madrid dressing room like Zidane. While playing with Zidane, Luis Figo, Ronaldo Nazario and David Beckham, Solari knows how Madrid's coaches tamed those megastar's egos. As Sergio Ramos said, Real Madrid needs coach who is a leader in the dressing room rather than just being great in technical matters.
Vicente del Bosque was the coach who brought Solari to Real Madrid from Atletico. Del Bosque himself was a coach who prioritized dressing room management rather than technical and tactical aspects. Solari also admitted that he learned a lot about the management of the team from him.
"I admire Del Bosque and respect him really for his ability in the management of the group of players, which in professional football is as important as the form of training," Solari said in 2016, as quoted by Grafico.
In addition, Solari will also make Real Madrid once again rely on Antonio Pintus. Pintus was the physical trainer that Zidane brought to Madrid in 2016. The physical coach from Italy was a physical coach of Zidane when he was still playing for Juventus. Zidane considered that the Pintus training method can improve the physical abilities of Real Madrid players who he considered to be lacking.
When trained by Lopetegui, Pintus was actually still part of Real Madrid's physical coaching staff. But Pintus became the assistant to Oscar Caro, the main physical trainer of Lopetegui.

But before become a permanent coach of Real Madrid, Solari needs to prove himself through results on the pitch. Under the rules of the Spanish Football federation, as stated in article 60, interim coaches are only allowed to handle the team for two weeks. After two weeks, the team must announce the name of the permanent head coach.
This means that Real Madrid have two weeks to appoint Lopetegui's replacement coaches as of 29 November. As long as Real Madrid haven't decided on a new name, Solari still has time to prove himself. After playing aginst Melilla, there are three matches that can determine his fate in Madrid: against Real Valladolid (La Liga), Viktoria Plzen (Champions League), and Celta Vigo (La Liga).
Now, after Antonio Conte was reportedly refused Real Madrid's offer, a number of names that are candidates for Real Madrid's new coaches are Arsene Wenger, Laurent Blanc, Mauricio Pochettino, Guti Hernandez and Roberto Martinez. But if Solari turns out to be able to prove his ability in this two weeks, it is possible that Solari will be the coach of Real Madrid at least until the end of this season.